Pharmaceutical Break Out Product- Gel Cap Drying Trays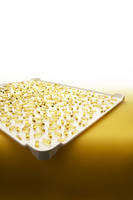 Pharmaceutical Gel Cap Drying Trays
MFG Tray gel cap drying trays feature drop sides and/or ends for improved air flow and thorough drying. Smooth composite surface eliminates sticking or product marking and is readily cleaned in standard washers. Gel cap drying trays may be used continuously in temperatures ranging from -60° to 250° F (-51° to 121° C). Rounded corners and contoured edges prevent the accumulation of moisture or residue.
Composite construction ensures that MFG gel cap drying trays can be solidly stacked without warping or distorting under heavy loads. Optional dollies are available for easy transporting of trays to various work areas. Four colors are offered for ease of inventorying and identification.
Molded Fiber Glass Tray Company strongly believes in helping you find solutions. When you need that special solution, whether it is a tray, a container, or a custom part, please contact us at info@mfgtray.com or 1-800-458-6050. Made in the USA.
Contact:
Celena Davis
Marketing Manager
MFG Tray Company
6175 US Hwy. 6
Linesville, PA 16424
Phone: 814-683-4500
Contact This Company Download Spec Sheet
More from Health, Medical, & Dental Supplies and Equipment