Phantom Screen introduces the Maestria™ 50 RTS Motor with Improved Obstacle Detection Technology
Press Release Summary: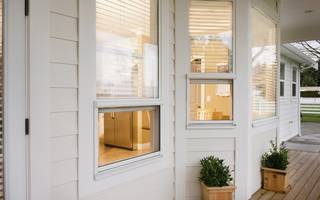 Phantom Screens partnered with Somfy motors to create a new dedicated motor for external outdoor retractable window screens; the first of its kind in North America. The Maestria™ 50 RTS has improved obstacle detecting intelligence that can stop the motor while the screen is traveling up or down. When an obstacle is detected, the motor will stop the screen's movements and reverse it upwards, away from the obstacle to prevent damage to the screen. The motor is also able to distinguish between an actual obstacle and wind gusts, preventing unnecessary stopping and service calls. 
---
Original Press Release:
Phantom Screens Includes Somfy's Ultimate Motor Solution Within Their Motorized Retractable Screens
VANCOUVER, BRITISH COLUMBIA (PRWEB) MARCH 28, 2018
Phantom Screens, the leading manufacturer of retractable screens in North America, has once again modernized their partnership with Somfy Motors - the global leading manufacturer of motors for exterior window coverings.
While both companies have been synonymously connected throughout the years, Phantom is excited to announce they will now be including the latest innovation by Somfy within their motorized retractable screen products - the Maestria™ 50 RTS. This new product is the first motor within North America that is completely dedicated to motorized external screens for outdoors spaces.
What makes this motor so unique is that now, more than ever, it can intelligently detect obstacles in the way while the screen travels up and down. If an obstacle is detected, the motor will stop the screen and reverse it back upwards - safely away from the object. This, in turn, protects the retractable screen and prevents the fabric from damaging by bunching and slipping from the guides.
What's more, the motor can now distinguish between an actual obstacle and wind, even wind gusts, so it doesn't stop unnecessarily, resulting in fewer service calls and peace of mind for the customer.
"At Phantom we are continuously improving our products to ensure our customers have the most reliable retractable screens within their home." says C. Esther De Wolde. "This new motor's advanced features and intelligent detection system provides our customers with a reliable screen experience every time."
Phantom will have completely transitioned to including this new motor within their motorized screen as of April 1st, 2018.
About Phantom Screens 
North America's leading provider of retractable screens, Phantom Screens® offers insect protection, solar shading, temperature control and enhanced privacy for doorways, windows and large openings such as patios, verandas, and lanais. Phantom retractable screens are designed to pull into place when required and retract out-of-sight when not in use. Every Phantom screen is professionally installed and backed with a Limited Lifetime Warranty for added peace of mind. 
https://www.facebook.com/retractablescreensolutions/ 
https://www.linkedin.com/company/phantom-screens-corporate-office/
About Somfy Systems, Inc. 
Somfy is the leading global manufacturer of strong, quiet motors with electronic and app controls for interior and exterior window coverings. Over 270 million users worldwide enjoy the more than 150 million motors produced by Somfy. During the past 40+ years, Somfy engineers have designed products for both the commercial and residential markets to motorize window coverings such as interior shades, wood blinds, draperies, awnings, rolling shutters, exterior solar screens and projection screens.
More from Fluid & Gas Flow Equipment