Phantom® Miro® N-Series Camera can withstand impacts up to 150G.
Press Release Summary: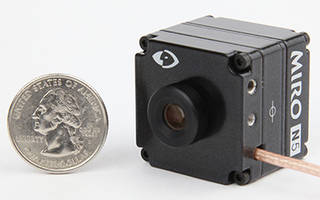 Along with camera head measuring 32 x 32 x 29 mm and full resolution of 768 x 600, Miro® N-Series camera delivers 560 fps and over 9,000 fps at lower resolutions. Including camera head, detached camera base, and 10m CXP cable, product comes with 8GB of onboard RAM or 128GB of non-volatile CineFlash memory. Designed with S-mount lenses and fixed aperture, units feature CoaxPress protocol and CXP cabling.
---
Original Press Release:
Announcing the Phantom Miro N-Series Imaging System
Vision Research, a leading manufacturer of digital high‑speed imaging systems, debuted the Phantom® Miro® N-Series. With a camera head measuring in at just 32mm x 32mm x 29mm, the Miro N-Series is the smallest model in Vision Research's broad line of digital high-speed cameras. "The N-Series was developed because of customer feedback in the auto testing industry," explained Doreen Clark, Senior Product Manager at Vision Research. "Engineers need to capture detail in the most challenging of spaces, within door panels, under the dash, and even in the engine bay. The Phantom Miro N-Series meets those needs and seamlessly integrates with other Phantom Miro cameras to create a complete system that captures multiple viewpoints."
Size
The Miro N5 camera head is detached from the body, can be mounted just about anywhere, and is Hi-G constructed to withstand impacts up to 150G. It is ideal for hostile and extreme environments, such as auto crash and aerospace. Despite its size, the Miro N5 offers the performance expected of a Phantom camera. At full resolution, 768x600, the camera delivers 560 frames-per-second (fps) and over 9,000 fps at lower resolutions. Many Phantom features, such as Extreme Dynamic Range (EDR) for exceptional image quality in high-contrast lighting conditions, are included. There is a fixed aperture that accepts readily available, miniature S-mount lenses, which come in a variety of fields of view. See a video using the Miro N-Series on the Vision Research YouTube channel.
Data Security
The Phantom Miro N-Series is comprised of the camera head, a detached camera base, and a 10m CXP cable. Since data security is a concern while filming in harsh environments, the CoaxPress protocol and CXP cabling ensures that vital data is captured, instantly transferred, and stored in the base, even if the camera head or cable are damaged. Once transferred to the base, images can be stored on 8GB of onboard RAM or 128GB of non-volatile CineFlash memory. Moreover, in the event of power loss, the Miro N-JB base incorporates a battery backup to feed power until the images and the data are saved.
Affordability and Flexibility
Due to the nature of high-impact testing, there is a high amount of damage risk to expensive high-speed cameras. The design and engineering of the Phantom Miro N-Series addresses that risk. All components of the Phantom Miro N-Series are interchangeable. The 10M CXP cable allows Miro N-JB base to be safely mounted away from the head. Should the camera head or CXP cable be destroyed, new ones can be purchased and swapped into existing setups at a nominal cost.
The N-Series operates with the Miro Junction Box (J-Box), which allows it to synchronize with the Miro C, M, R, and LC-series, 3, and eX4. The J-Box is Hi-G, requires just one power source, and uses a single cable per camera for operating and downloading resulting in a clean, easy-to-use, rugged solution.
Learn more about the Phantom Miro N-Series at http://www.phantomhighspeed.com/N5.
About Vision Research
Vision Research, is an award-winning (technical Emmy and an Academy Award®), leading manufacturer of high-speed digital imaging systems utilized across a wide variety of applications, including defense, automotive, engineering, science, medical research, industrial manufacturing, packaging, sports broadcast, TV production and digital cinematography. Vision Research digital high-speed cameras add a new dimension to the sense of sight, allowing the user to see details of an event when it's too fast to see, and too important not to™.
Vision Research is online at www.phantomhighspeed.com.
Contact:
Vision Research, Inc
100 Dey Rd.
Wayne, NJ 07470
Phone: 973-696-4500
Url: http://www.phantomhighspeed.com/
Related