pH Electrodes utilize drift-free reference system.
Press Release Summary: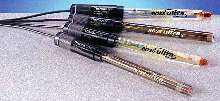 Available in rugged and standard glass bulb, flat-surface, semi-micro, and epoxy-bodied styles, ROSS Ultra(TM) pH electrodes use virtually drift-free reference system that is unaffected by temperature or composition. ROSS Ultra half-cell reference electrodes are also available for applications where separate sensor and reference electrodes are preferred.
---
Original Press Release:

Thermo Orion Introduces New ROSS Ultra(TM) Groundbreaking pH Electrodes


BEVERLY, Mass. (February 5, 2003) - Thermo Orion, a Thermo Electron business (NYSE:TMO) and leader in the development and manufacturing of chemical measurement product lines, today announced the release of six ROSS Ultra state-of the-art electrodes to add to an already impressive pH electrode line.

The Thermo Orion ROSS pH electrodes, which are recognized as the best pH electrode in the world for difficult samples, are now even better. It uses a unique reference system developed by Thermo Orion that offers longer life, greater stability, and fast results, regardless of sample composition or temperature. ROSS Ultra pH electrodes are available in a rugged and standard glass bulb, flat surface, semi-micro and epoxy bodied styles to best determine the pH of a variety of sample types. A ROSS Ultra half-cell reference electrode is also available for applications where separate sensor and reference electrodes are preferred. ROSS Ultra electrodes will be offered under their own catalog numbers and are available as Thermo Orion meter and electrode packages. Due to the outstanding innovations and performance of these electrodes, the ROSS Ultra line has twice the warranty and greater stability than its predecessor.

The ROSS Ultra pH line includes the following new features:
o Virtually drift-free reference system
o Unparalleled pH response to temperature changes
o Designed for the most difficult samples
o Extended warranty to 24 months when typical pH electrode warranties are 3 to 12 months

Thermo Orion is an ISO 9001-registered manufacturer of quality chemical measurement products. Thermo Orion's line of products includes pH, ion selective electrode (ISE), colorimeters, conductivity and dissolved oxygen meter, electrodes, accessories, and solutions. Thermo Orion also offers a complete line of syringe pumps, microbalances, titrators and Pure Water(TM) online process monitors. Most recently, the company expanded its already extensive product offering to include a complete line of liquid-handling systems, autosampler, the award-winning EZ-Flash® gas chromatography accessory, and the TEA Analyzer® detector for HPLC and GC. These systems prove that Thermo Orion is committed to providing the best instrumentation for a wide array of laboratory analyses.

About Thermo Electron Corporation:
Thermo Electron Corporation provides scientific instruments, equipment, software, and solutions that help laboratory and industrial customers advance scientific knowledge, enable drug discovery, improve manufacturing processes, and protect people and the environment. With annual revenue exceeding $2 billion, Thermo is a global leader employing 11,0000 people in 30 countries worldwide. The company is based in Waltham, Massachusetts.

More from Optics & Photonics