PG 9500 REGO-FIXPG 9500 Clamping Unit holds carbide and HSS tools.
Press Release Summary: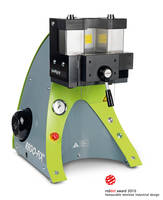 With cycle tests exceeding over 20,000 insertions and removals, PGU 9500 automatic clamping unit rely on interference between holder and collet to generate their clamping force. Using mechanical properties of holder material for generating tremendous gripping force, units take less than 10 seconds to be pressed in tool or to be removed from holder. With run-out below 0.0001 in., device's interchangeable collets ranges from 1/8 inch to 1 inch.
---
Original Press Release:
REGO-FIX® PGU 9500 Provides Unparalleled Reliability
The PGU 9500 automatic clamping unit is the newest member of REGO-FIX Tool Corporation's well-established powRgrip® family of toolholding. The system is smaller in size, ergonomic, energy efficient and practically maintenance free.
The PGU 9500 operates basically the same as REGO-FIX's existing clamping units. However, it has less moving parts and incorporates long-lasting durable proximity switches as well as other design changes that significantly boost reliability and system longevity as well as energy savings.
And for added convenience, REGO-FIX offers shops the option to rent a powRgrip system, including the PGU 9500, on a monthly basis. As part of the program, customers can trade for a new system after 18 months and earn credit towards the purchase price of a system if they eventually decide to own a powRgrip system.
To enhance system speed, ease of use and operator efficiency, REGO-FIX streamlined the PG 9500's exterior design and strategically relocated some key control elements. The main power switch, for instance, is conveniently situated at the side of the unit, and all exterior buttons are flush mounted for operator safety and to prevent damage.
REGO-FIX PG toolholding systems rely on the interference between holder and collet to generate their clamping force. Unlike other clamping systems where heat or hydraulics are used to expand the material, the PG uses the mechanical properties of the holder material to generate tremendous gripping force with run-out below 0.0001". Interchangeable collets are available from 1/8" up to 1", including metric sizes, and will hold both carbide and HSS tools.
PG units take less than 10 seconds to press in a tool or remove it from the holder. Because no heat is used, tools can be used immediately after a tool change. Cycle testing exceeded over 20,000 insertions and removals, outperforming other systems on the market.
In recognition of the PG 9500, REGO-FIX received a renowned Red Dot 2015 product design award. The innovative system won an Honorable Mention within the category of machinery and robotics. The award is a revered international seal for outstanding design quality and granted based on degree of innovation, functionality, handling, durability, ecological compatibility and clarity of function.
About REGO-FIX
With U.S. headquarters in Indianapolis, Indiana, REGO-FIX, inventor of the original ER collet system, is a world leader in the manufacture of Swiss precision tooling. For more information on REGO-FIX, its products and services, or to request a catalog, please call 1.800.REGO-FIX or visit the company's website at www.rego-fix.com.
More from Packaging Products & Equipment