PFlow Vertical Reciprocating Conveyors – We Elevate your Business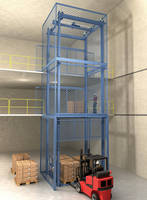 Milwaukee, Wisconsin (March 10, 2017) – PFlow Industries, Inc., recently sold its 17,000 vertical reciprocating conveyor (VRC) worldwide, an achievement unmatched in the material handling industry. Since 1977 PFlow has been dedicated solely to the custom design, engineering and building of VRCs for a variety of commercial, industrial and special-use applications, including but not limited to manufacturing, warehousing, distribution and retail.
In the early years at PFlow Industries, it would have been unthinkable that we might reach a milestone of 17,000 units. The inclined lifts we started with were strictly for moving materials to a mezzanine. By clarifying the elevator codes PFlow created the vertical conveyor and the phenomenon we call "The Horizontal Nature of Vertical Conveying". PFlow can and will lift anything.
PFlow has built lifts moving loads of all shapes, sizes, and weights. PFlow was not the first manufacturer in the material lift industry but quickly became the leader with the help of our many skilled dealers and resellers that place the equipment into so many wide ranging applications.
PFlow has always encouraged creativity among our large group of loyal employees who pride themselves on being the best "Vertical Material Handling problem solvers" in the world. They have helped us reach this latest milestone on our road to success.
Ted Ruehl, President of PFlow Industries, Inc.
PFlow Industries offers custom-engineered hydraulic, mechanical and fully automated systems; lifting 100 lbs to 100 tons. VRCs transport materials between two or more levels for mezzanines, balconies, through-floor, interior and exterior applications. VRC's conform to ASME B20.1 safety standards and have their own national code. PFlow Industries guarantees code compliance in every state.
PFlow Industries is headquartered in Milwaukee, Wisconsin with 120 employees.
Contact Chuck Cobb, Vice President Outside Sales at 414-352-9000 / chuckc@pflow.com to discuss material handling needs. Or visit www.pflow.com.
Allison Britton
PFlow Industries, Inc.
414-352-9000
PFlow Industries, Inc.
6720 N. Teutonia Avenue
Milwaukee, WI 53209
Contact This Company Download Spec Sheet
More from Material Handling & Storage