PFC Controller targets high-end AC-DC adapters.
Press Release Summary: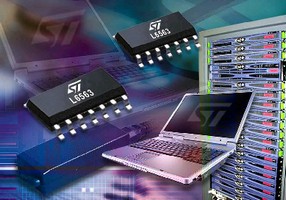 Operating in Transition Mode(TM), Model L6563 provides solution for applications ranging from 100-300 W. Power in excess of 400 W can be managed by implementing Fixed-Off-Time architecture. Current mode IC includes input voltage feed-forward, tracking-boost operation, inductor saturation detection, and leading edge blanking, as well as direct interface to cascaded dc-dc converter's PWM controller. Safety features include brownout and feedback disconnection protection.
---
Original Press Release:

Advanced PFC Controller from STMicroelectronics Integrates Multiple Features for High-End AC-DC Adapters



State-of-the-art current-mode Power Factor Corrector control chip adds brownout and feedback disconnection protection, plus power management capability

Geneva, February 03,2006 - STMicroelectronics (NYSE: STM) has announced an advanced PFC (Power Factor Corrector) controller designed to be used in PFC pre-regulators in high-end AC-DC adapters and chargers for laptop PCs and game consoles, in desktop PCs and servers, and in IEC and JEIDA-MITI compliant switched-mode power supplies (SMPS) handling up to and over 250W. The new L6563 - based on the core of the established and successful L6562 controller - integrates a broad range of additional functions to increase safety and efficiency while minimizing the need for external components.

The L6563 current-mode PFC controller operates in Transition Mode (TM) and provides a highly cost-effective solution for applications in the region of 100W to 300W; power in excess of 400W can easily be managed by implementing ST's patented Fixed-Off-Time (FOT) architecture, which increases power capability while maintaining the simplicity and affordability of Transition Mode operation.

New safety features include Brownout and Feedback Disconnection Protection. The former is a non-latched device shutdown function that can be activated when mains undervoltage is detected. The latter prevents uncontrolled output voltage rise, in case of failure of the voltage regulation control loop.

In addition, the IC provides input voltage feed-forward, tracking-boost operation, inductor saturation detection and leading edge blanking, as well as a direct interface to the cascaded DC-DC converter's PWM controller.

Voltage feed-forward can be used to compensate for gain variation with the input voltage, improving the stability of the loop and the transient response to sudden mains voltage changes. Optionally, the chip can be programmed to work with the tracking-boost approach, where the output voltage follows variations in the mains supply voltage. Inductor saturation detection protects against a potentially fatal condition in which its current can reach an abnormally high level.

The PWM controller interface is used to stop the operation of the converter in case of anomalous conditions in the PFC stage, and to turn off the PFC when the converter's load falls below a given threshold, enabling compliance with energy saving recommendations such as Blue Angel, Energy Star, Energy2000 and EU Code of Conduct. The L6563 is ideal for use with ST's new L6668 PWM and L6599 Resonant Controllers, and matches its low power consumption with a start-up current before turn-on of 90µ, and 5mA operating current.

The L6563 current-mode PFC controller is available now in an SO14 package. US pricing is $0.28 in quantities of 1000, or 2500 for tape-and-reel.

About ST's Microcontroller, Linear & Discrete Group
STMicroelectronics is a world leader in offering complete system solutions that leverage its rich portfolio of Microcontroller, Linear, and Discrete products, advanced process and design technologies, and applications expertise. This emphasis on solutions allows the Company to minimize time-to-market for all customers worldwide in existing and emerging applications.

Further information is also available at www.st.com/powermanagement

About STMicroelectronics
STMicroelectronics is a global leader in developing and delivering semiconductor solutions across the spectrum of microelectronics applications. An unrivalled combination of silicon and system expertise, manufacturing strength, Intellectual Property (IP) portfolio and strategic partners positions the Company at the forefront of System-on-Chip (SoC) technology and its products play a key role in enabling today's convergence markets. The Company's shares are traded on the New York Stock Exchange, on Euronext Paris and on the Milan Stock Exchange. In 2004, the Company's net revenues were $8.76 billion and net earnings were $601 million. Further information on ST can be found at www.st.com.

More from Electronic Components & Devices