Power Factor Correction (PFC) Equipment
PFC Controller meets green requirements.
Press Release Summary: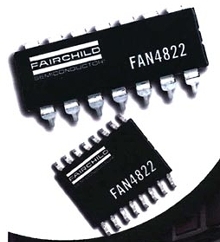 FAN4822 PFC employs zero-voltage switching control circuitry for efficient operation at high switching frequencies. Continuous boost architecture achieves power factor up to 98% and low total harmonic distortion necessary to comply with green initiatives, such as IEC 1000-3-2 standard for energy efficiency and noise reduction. Unit is rated for operation over -40 to +85 deg C, and is available in 14-lead plastic DIP and wide-body 16-lead SOIC packages.
---
Original Press Release:
FAIRCHILD STRENGTHENS LEADERSHIP POSITION IN POWER FACTOR CORRECTION WITH ZERO-VOLTAGE SWITCHING CONTROLLER

San Jose, Calif-February 28, 2002 - Fairchild Semiconductor International (NYSE:FCS) expands its market leadership in products for power factor correction by introducing the FAN4822 PFC controller, targeted for power supplies of 500W or more. The FAN4822 is an average-current boost-type device employing zero-voltage switching (ZVS) control circuitry designed for efficient operation at high switching frequencies. The continuous boost architecture allows designs to achieve the high power factor (up to 98%) and the low total harmonic distortion (THD) necessary to comply with "green" initiatives, such as the IEC 1000-3-2 standard for energy efficiency and noise reduction in consumer electronics. The built-in ZVS circuitry allows designers to use smaller, lower cost components to save board space while reducing switching losses and noise caused by electromagnetic interference (EMI).

Fairchild's broad portfolio of PFC and PFC/PWM combo chips for medium and high-power supplies is recognized as the market leader in solutions for power factor correction. The FAN4822 offers exceptional performance and strengthens Fairchild's position in high-power applications, such as servers, routers, power supplies, and telecom switching equipment.

Safety features on the FAN4822 include under-voltage lockout, over-voltage protection (to eliminate output "runaway" due to load removal), peak-current limiting, and input-voltage brownout protection. The FAN4822 is rated for operation over the -40°C to +85°C temperature range, and is available in 14-lead plastic DIP and wide-body 16-lead SOIC packages.

Price: Availability: Delivery: 14-lead PDIP (FAN48221N) and 16-lead SOIC (FAN48221M) U.S. $3.21 (1,000 pcs.) Now 8-10 weeks ARO


More from Mechanical Components and Assemblies