Pfannenberg Offers PY L-S LED Signaling Device for Use To Convey Normal and Irregular Activity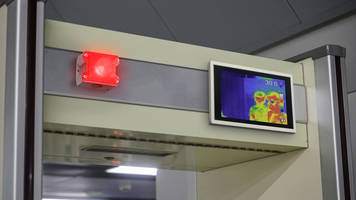 Combined with thermal imaging cameras, device helps flag possible COVID-19 infections
Lancaster, NY – Pfannenberg, Inc., a leading global manufacturer of thermal management and signaling technologies, announces that its PY L-S color changing LED visual signal alarm with four selectable colors, part of the PYRA® product family, is an ideal addition to real-time people flow control and COVID-19 monitoring systems. The PY L-S, when paired with thermal imaging cameras, can comprise a skin surface temperature monitoring system that can flag individuals with elevated temperatures for further health screening. Useful in manufacturing facilities, office buildings, commercial centers, schools, medical centers, and many other settings, such monitoring systems can aid in ensuring infection containment and community health and safety through its color changing blinking and flashing mechanism.
The PY L-S LED Visual Signal Alarm offers flexible, ultra-bright, color changing or single-color LED technology in four selectable colors and convey normal and irregular activity. What's more, the alarm features three selectable signaling modes: continuous, blinking, and flashing. This signaling device offers a 180° x 360° visible field, and can be easily integrated into a number of different monitoring systems, including skin temperature sensing with thermal imaging cameras.
The PY L-S can be surface or flush-panel mounted, and is a suitable, easy-to-install replacement for stack tower lights. Its IP 66-rated enclosure makes it suitable for use in all weather conditions, including driving rain, snow, ice, and dust. The device is also capable of withstanding hose-directed spray during wash-down requirements, and the impact-resistant housing and lens achieves an IK08 impact rating.
Visit https://www.pfannenbergusa.com/product/signaling-technologies/visual-signals/flashing-strobes/thermal-imaging-py-l-s/ to learn more.
About Pfannenberg
Established in 1954 by Otto Pfannenberg in Hamburg Germany, Pfannenberg, Inc. is recognized as a leading global manufacturer of thermal management technologies within the Electro-technology Industry. In 1958 we invented the Filterfan®, which continues to be recognized worldwide as a leading product to help manage the temperature in electrical enclosures. Our business philosophy: Protecting Man, Machine and the Environment.
Contact: Kristin Nugent
McNeil, Gray & Rice, Inc.
617-367-0100 ext. 148
[email protected]