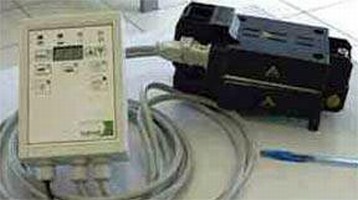 The PF-101 is a hot-pressing device used for joining Habasit belts. This press can accommodate belts up to 100mm in width and 6mm in thickness. This press is mainly designed for finger joining, or Flexproof, and maximum finger length is 120mm. Skived joints, or Thermofix, and Quickmelt joining is also possible with this press. The press features precise individual temperature control of both press plates for exact joining, while the automatically controlled forced-air cooling system ensures hassle-free operation.

The PF-101 is especially suitable for on-site installations. The press body is connected to the compact control unit by a 2m cable, which is ideal for install situations. The press body can be separated in half for easy installation in tight spaces. When left together, the press is inserted over the belt like a tong and closed at the front. Pressure is applied to the belt by tightening two screws.

For information about the PF-101 Press or other joining tools, contact our Technical Department at 800-458-6431.