Pettit Announces Availability of Award-Winning Easy-to-Use Wood Treatment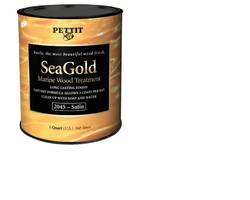 Coating Manufacturer Shipping Quick-Drying SeaGold Satin Wood Treatment
Rockaway, N.J. - Pettit Marine Paint, leading manufacturer of high performance marine coatings, announced today that its award-winning SeaGold Satin Wood Treatment is now in stores.
"SeaGold is the most user-friendly wood finish available and is perfect for protecting any top-side britework," said Don Zabransky, vice president sales & marketing, Pettit Marine Paint. "Recognized by customers and industry experts alike, SeaGold has revolutionized the industry with its simple application. It really is the only option for your next DIY project."
Bringing marine wood finishes into the 21st century, SeaGold offers the beauty and durability of varnish, and the ease of use of synthetic wood treatments, while being low-odor and low VOC (the amount of solvent released into the atmosphere). Designed with the user and the environment in mind, SeaGold is VOC compliant in all areas, and clean-up is simple with soap and water. Unlike many other wood treatments, SeaGold can be applied over existing varnishes. Its satin finish enhances the beauty of the wood, while its translucent amber color does not hide or blur wood's natural grain. UV-stable resins have been combined with UV inhibitors as well as transparent pigments to provide a long-lasting finish that will not turn brown or orange with exposure to the elements. Its fast-drying formula also allows three to four coats to be applied in one day.
At the 2016 International BoatBuilders' Exhibition & Conference (IBEX), SeaGold Satin Wood Treatment was awarded the National Marine Manufacturers Association (NMMA) Innovation Award in the Boat Care and Maintenance category. The product was recognized for its ease of use and water-based application technology.
Pricing and Availability:
SeaGold is available in quart cans for $44.99 from fine marine supply stores and boatyards throughout the United States.
For more information on SeaGold or Pettit's complete line of marine coatings, please visit www.pettitpaint.com.
About Pettit Marine Paint:
Pettit Marine Paint manufactures and markets a complete line of high performance, marine coatings. Pettit's name is recognized throughout the world as a leader in the marine industry, and our reputation is based on results; our products outperform all other major brands in the industry time and time again. We're committed to keeping your boat protected and beautiful by providing long lasting, quality products that let you spend less time maintaining your boat and more time enjoying it. From topside paints to antifoulant bottom paints and everything in-between, Pettit's products have you covered. Pettit's plant is located in Rockaway, New Jersey, and our products are available throughout the world.
Margo Hunt
Pettit Marine Paint
More from Electrical Equipment & Systems