Peter Wolters AC microLine® 400-D Deburring Machine features cast iron base.
Press Release Summary: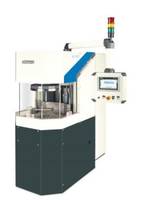 Peter Wolters AC microLine® 400-D Deburring Machine comes with a brush wheel diameter of 445 mm. Unit can process workpiece up to a maximum diameter and thickness of 100 mm and 50 mm respectively. Product is suitable for small work pieces and is equipped with Siemens drives. Machine features 12 in. Siemens touch panel and PLC control.
---
Original Press Release:
Accurate Challenging Deburring with the Peter Wolters AC microLine® 400-D in Compact Design
The Precision Surfacing Solutions Group, with the brand Peter Wolters, is a world-class provider of innovative technology and productivity solutions with its high-precision machine tools and systems for high-precision surface processing of nearly any kind of work piece. As an innovative partner, customized solutions are developed and manufactured to meet the highest requirements with regards to surface quality, parallelism, flatness and accuracy. Our systems are suitable for virtually unlimited applications, including automotive, aerospace and semiconductor industries.
At the DeburringEXPO in Karlsruhe, Germany from October 10 - 12, 2017 we will launch the Peter Wolters AC microLine® 400-D
The big advantage when deburring with the AC microLine® 400-D is the consistent high-precision deburring of small work pieces, surface improvement as well as achieving a defined edge rounding. The AC 400-D captivates through its compact design with maximum performance and stability, due to the innovative cast iron machine base. With the patented solution for double-sided deburring applications, a complex and costly flip-over of work piece is dispensable, because of the simultaneous processing of both surfaces. Especially, for non-magnetic components, the abolition of a flip-over device leads to cost and space savings. The loose insert of the parts into the workpiece carriers guarantees a fast change of different workpiece types. Due to the flexibility of this deburring technique a wide range of different workpiece materials as well as geometries can be processed; only exemplary precision components of the automotive industry as well as the watch and jewelry industry are out-lined here.
Some important characteristics at a glance:
Brush wheel diameter 445mm
Maximum workpiece diameter of 100mm
Maximum workpiece thickness of 50mm
Process control with a 12" Siemens Touch Panel
Modern Siemens PLC Control
Reliable Siemens drives
Remote maintenance solution RangeCare® for fast service support
We are pleased to welcome you at the DeburringEXPO and to explain the advantages of the Peter Wolters AC microLine® 400-D in a personal conversation. You will find us at the DeburringEXPO 2017 booth 108.
Contact This Company Download Spec Sheet
More from Machinery & Machining Tools