Peter Wolters AC 1000-F Grinding Machine comes with a wheel diameter of 1050 mm.
Press Release Summary: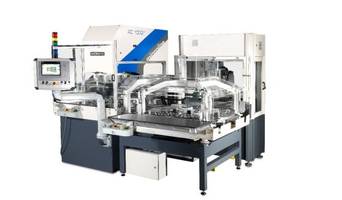 Peter Wolters AC 1000-F Grinding Machine features 6 work piece carriers and provides thickness tolerance as low as ±0.001 mm. Unit comes with twin loader and robot cell. Twin loader features solid steel weld construction and linear electrical unit and helps to load and unload work pieces at the same time. Robot cell is equipped with Scara configuration which is used to pick and place the work piece for loading and unloading and is integrated with infeed conveyor.
---
Original Press Release:
Peter Wolters AC microLine® 1000-F with New Twin Loader Generation and Robot Cell for High-performance Doublesided Surface Grinding
AC 1000-F
Peter Wolters AC 1000-F is a high-precision fine grinding machine for plane-parallel machining of preferably flat work pieces. It is used, wherever highest requirements with respect to surface quality, parallelism, flatness, and dimensional accuracy must be realized efficiently. AC 1000-F features a grinding wheel diameter of 1050 mm and operates with 6 work piece carriers, which route the work pieces through the grinding process. The result is a thickness tolerance below ±0.001 mm. Thanks to consistent further development of machine, components, and process, this machine series offers a leading price-performance ratio.
Twin Loader
Peter Wolters AC microLine® 1000-F in combination with the Twin Loader represents a powerful production system consisting of grinding machine and automation for automatic work piece carrier exchange. The core of the Twin Loader is a rotary table, which is used as a buffer. This reduces auxiliary process times and the machine capacity is utilized optimally. In parallel to the ongoing grinding process, Seite 2 von 3 the operator can unload finished parts and prepare work piece carrier loading with unmachined parts. Simultaneous loading and unloading of two work piece carriers into and from the machine via Twin Loader significantly reduces the exchange time and increases the overall system productivity drastically. The exchange time of 60 seconds for 6 work piece carriers ranks among the best in the market. For even more efficiency, the modular Twin Loader can be complemented with a robot cell for work piece carrier loading and unloading.
The Twin Loader introduced first at EMO is a further development of the proven and established initial Twin Loader. Relevant optimizations are: Solid steel weld construction instead of aluminum profile frames, linear electrical unit for work piece carrier loading and unloading, improved accessibility through new frame design, flexible selectable position for machine operator and/or robot cell for optimum adaptation to the customer's circumstances as well as faster rotary table positioning via servo drive.
Robot cell
The robot cell is a newly developed automation concept for Peter Wolters AC microLine® machining tools and is equipped with a Scara robot for pick and place for work piece loading and unloading. The robot cell also features an infeed conveyor for unmachined part feeding as well as an outfeed conveyor for removing finished parts. This enables optimum integration in existing or new production lines.
The robot cell can load and unload AC microLine® machines directly. After process end, the upper machine part swivels out, providing the Scara robot with optimum access to the grinding compartment and thus allowing work piece carrier loading and unloading to start. Finished part removal and subsequent loading with an unmachined part is alternated for an efficient loading and unloading time.
Furthermore, the robot cell can be combined with a Twin Loader for a significant increase in productivity and optimization. For this design variant, work piece carrier loading and unloading take place in the twin loader during the processing time of the AC microLine® machine, which reduces auxiliary processing times to a minimum.
Contact This Company Download Spec Sheet
More from Machinery & Machining Tools