Personnel Vehicle accommodates 2 wheelchair users.
Press Release Summary: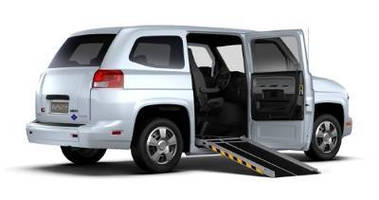 Available on General Services Administration (GSA) Schedule, MV-1 provides accessible transportation solution. Features such as built-in side entry ramp, head room, and ability to simultaneously accommodate two users safely (one up front) are engineered to support people who use wheelchairs. Suited for government fleets and commercial use, MV-1 is available with standard gasoline engine or factory-installed, clean-burning Compressed Natural Gas (CNG) fuel option.
---
Original Press Release:

Mobility Ventures' MV-1 Now Available on General Services Administration Schedule for Purchase in U.S. Government Fleets Nationwide



SOUTH BEND, Ind. -- Mobility Ventures LLC, designer and manufacturer of the acclaimed MV-1, the only American vehicle designed from the ground up in support of people who use wheelchairs, is proud to announce the MV-1 is available on the General Services Administration [GSA Schedule.  Federal agencies will now be able to efficiently order and take delivery of the MV-1 for their fleet transportation needs.



The MV-1 is redefining accessible transportation with a built-in side-entry ramp, ample head room, and the ability to safely accommodate two wheelchair users at a time--one of whom rides in the front--.making it the perfect solution for government fleets and commercial use. The MV-1 is also the only vehicle in its class available with a standard gasoline engine or a factory-installed clean-burning Compressed Natural Gas (CNG) fuel option.



More than 2,000 MV-1s are currently in fleet service around the country, and being added to the GSA schedule will make it much easier for U.S. government agencies to augment their fleets with this innovative and revolutionary vehicle.



"Mobility Ventures is proud to have the MV-1 added to the General Services Administration Schedule and make available to government agencies an American-built vehicle that fills a void in current transportation solutions for people who use wheelchairs," said Pat Kemp, Mobility Ventures Executive Vice President.



With more than 115 dealerships in the MV-1 network in the United States and overseas, the MV-1 is expanding choice in transportation for families and taxi, livery and paratransit fleets.



Master's Transportation Inc., based in Kansas City, Mo., will be the contract holder and will administer and manage the delivery of MV-1s to GSA customers with after sales support from the nationwide MV-1 network of more than 115 dealers.



Government agencies interested in purchasing MV-1s for their fleets under the contract number GS-30F-CA029, should contact Master's Transportation Inc., at (800) 783-3613 or email john@masterstransportation.com, or  visit their web site at http://masterstransportation.com



Interested media should contact Jeff Adams at jeff.adams@amgeneral.com or via cell phone: 703-347-2276.



For more information on Mobility Ventures LLC and the MV-1, visit http://mv-1.us



About Mobility Ventures LLC

Mobility Ventures is an industry innovator in purpose-built paratransit vehicles for public and private transportation providing design, engineering, marketing, sales, and customer service support.  Mobility Ventures is a wholly owned subsidiary, of AM General LLC. Please see more information about Mobility Ventures at www.mv-1.us



About AM General

AM General designs, engineers, manufactures, supplies and supports specialized vehicles for military and commercial customers worldwide. AM General has more than five decades of experience meeting the changing needs of the defense and automotive industries, supported by its employees at major facilities in Indiana, Michigan, and Ohio, and a strong supplier base that stretches across 43 states. Please see more information about AM General at www.amgeneral.com

More from Fluid & Gas Flow Equipment