Personnel Environmental Booth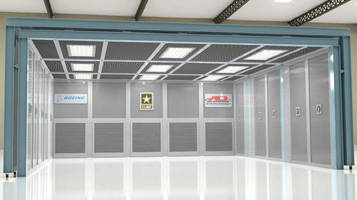 Air Dynamics Industrial Systems Corporation announces a contract award for a Personnel Environmental Booth from a U.S. Defense contractor. The U.S. Army and U.S. Marines will benefit from the advanced environmental booth design.

The Personnel Environmental Booth will provide a turn-key solution for Design, Manufacture and Installation of the filtration and ventilation booth. The environmental booth will provide clean air for workers manufacturing aerospace components.

Booth Dimensions - The environmental booth is 19 feet wide by 22 feet deep by 8 feet high inside. A movable roll-out section will allow an extension of an additional 8 feet for a total of 30 feet deep.

Electrical - The booth requirements called for Electrical Class 1 Division 1 for explosive fume environments. The booth incorporates state-of-the-art T5 High Output energy efficient overhead fluorescent lighting.

Sound Attenuation - Environmental booth interiors are normally associated with high noise operations. To reduce the sound level pressure, special fabricated panels were constructed to overlay a custom noise barrier/sound absorber attenuation blanket. The metal overlay insures a clean design without unsightly acoustic panels hanging from the ceiling and walls.

Performance - The environmental booth incorporates low-resistance high-performance air mover and filtration modules. Each of the five modules produces up to 4000 cubic feet of air per minute. Air filtration is infinitely variable from zero CFM to 20,000 CFM. Face velocity at the booth opening is infinitely variable from zero to 139 feet per minute.

Energy Conserving Design - The design incorporates multiple VFD controlled air movers. While each motor is started simultaneously in multiple module configurations, the speed is ramped to eliminate electrical surge. With variable speed design, the environmental booth air flow is adjustable to meet specific operations within the booth.