Personal Digital Assistant runs Windows Mobile 6.5 OS.
Press Release Summary: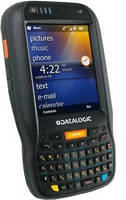 Designed to meet needs of field service, field sales, delivery, retail, and logistics, applications, Elf(TM) integrates Green Spot good read technology with both laser barcode reader and 2D imager. Connectivity options include UMTS HSDPA mobile radio for voice and data communications, embedded 802.11 a/b/g radio with CCX V4 certification, and Bluetooth® wireless 2.0 EDR. Equipped with QWERTY and numeric keyboards, PDA provides micro SD card slot, which supports SDHC storage cards.
---
Original Press Release:

Elf(TM), Datalogic Mobile's New PDA, Blazes Onto the Market



Elf(TM) is ready to revolutionize mobile computing with unprecedented features, technology and speed

Eugene, OR - Datalogic Mobile, a worldwide leader in the design and development of rugged mobile computers, announces its next generation professional PDA, Elf(TM). This device is ready to revolutionize the workplace with unprecedented features, the latest in technology and ultimate high speed performance.

Datalogic Mobile designed Elf from the ground up withthe technology and ruggedness to meet the needs of applications in Field Service, Field Sales, Delivery, Retail and Logistics. Capitalizing on Datalogic Mobile's legendary ergonomics, Elf packs cutting edge features into a compact form factor built for single handed operation.
"Elf uses our next generation platform, providing incredible speed coupled with the latest technology for mobility, all packaged in one of the best ergonomic devices on the market" notes Gian Paolo Fedrigo, CEO of Datalogic Mobile.

Among its innovations, the new PDA is one of the first in the mobile computing industry to run Microsoft's latest operating system, Windows Mobile 6.5. Datalogic patented Green Spot good read technology with both a laser barcode reader and 2D imager has also been integrated into the product. Elf incorporates an option to support HF RFID for reading and writing as well.

As in all Datalogic Mobile computers, the Wavelink® Avalanche(TM) device management system is pre-loaded and pre-licensed. Elf connectivity options include: UMTS HSDPA mobile radio for voice and data communication, embedded 802.11 a/b/g radio with CCX V4 certification for secure enterprise-class mobile connectivity, and Bluetooth® wireless 2.0 EDR for simultaneous connections with lower power consumption.

Elf also comes with other important features to make the operator's job easier than ever. A micro SD card slot which supports SDHC storage cards provides easy access to consumer channels for memory. QWERTY and numeric keyboards allow the user to choose the best keyboard for specific applications. Elf's display is sharp and clear, making viewing easy at all angles in any lighting conditions indoors or outside. The display is also provided with a QVGA and FVGA resolution options so users can choose between traditional and web applications.

Datalogic Mobile's Elf puts the world in your hand, ready to face any challenge out in the field or inside the store.

Discover Elf(TM) at www.elf.mobile.datalogic.com.

Join us for a Webinar on April 21

Space is limited.

Reserve your Webinar seat now at: https://www1.gotomeeting.com/register/720397809

About Datalogic Mobile

Datalogic Mobile, part of the Datalogic Group, is a global manufacturer of mobility solutions for retail applications, assisted shopping, warehouse solutions, and field-force automation.

Our diverse product range of rugged mobile computers includes pocket-sized computers, pistol grip computers, and industrial PDAs designed to keep workers connected to their enterprise inside or outside the four walls. Our mobile computers use Cisco® Certified CCX radios for maximum levels of: RF security, data throughput, and efficiency. Datalogic Mobile computers use the latest technologies for voice and data communications giving mobile workers on-the-go connectivity.

Datalogic Mobile is the worldwide leader in Assisted Shopping. Over 350 retail stores have implemented Datalogic Shopevlolution(TM) software and the Datalogic Joya(TM) handheld pod as their assisted shopping solution. Datalogic assisted shopping gives retailers a competitive advantage while reducing their operational costs. Joya makes shopping a multimedia experience that increases consumer loyalty.

Datalogic Mobile has worldwide presence in over 30 countries and over 800 business partners worldwide. A leader in technology, Datalogic has growing portfolio of over 850 patents, eight research and development centers, and 300 engineers.
See us on the web at www.mobile.datalogic.com or call 800-929-7899

About Datalogic Group

Datalogic Group is a world-class producer of bar code readers, data collection mobile computers, RFID systems and photoelectric sensors for the industrial automation sector and offers innovative solutions for a comprehensive range of industrial applications, especially in the manufacturing, transportation & logistics and retail industries.
Datalogic S.p.A. is quoted on the STAR segment of the Italian Stock Exchange since 2001 as DAL.MI, and is headquartered in Lippo di Calderara di Reno (Bologna). It employs about 2,000 staff members worldwide distributed in 30 countries across Europe, Asia, the United States and Oceania. The Group invests over 25 million Euro each year in Research and Development and has a large and growing portfolio of 885 patents across the world. In 2009 Datalogic received the Award in the Large Enterprise category of the "Business Innovation Prize" conferred by Confindustria, as the enterprise that has skilfully expanded in Italy and worldwide through investments in innovation.

Datalogic and the Datalogic logo are registered trademarks of Datalogic S.p.A. in many countries, including the U.S.A. and the E.U. All other brand and product names may be trademarks of their respective owners.

More from Sensors, Monitors & Transducers