Permeation Tubes suit calibration of air monitors.
Press Release Summary: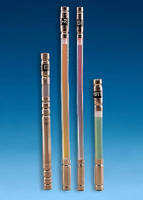 Available for concentrations from low ppb to 10 ppm in 1 L/min dilution flow, Trace Source™ Permeation Tubes use mixture of reagent grade nitric and sulfuric acids as analyte source. Sulfuric acid binds water, minimizing water emission to negligible levels. Since emission of sulfuric acid is extremely low, emission is primarily nitric acid. Formation of nitrogen oxides in vapor is minimized by dynamically blending emission to form trace concentration mixtures that are then used immediately.
---
Original Press Release:

Permeation Tubes for Nitric Acid Vapor Used to Calibrate Air Monitors



Trace concentration mixtures of nitric acid vapor are particularly difficult to prepare and store due to the aggressive chemical properties of nitric acid.  Even with conventional permeation or diffusion tubes, establishing the nitric acid emission rate of the device can be problematic.  Reagent grade nitric acid is relatively stable but contains thirty percent water and emission is the azeotrope. Pure nitric acid spontaneously decomposes even at room temperature liberating large amounts nitrogen dioxide.  In either case, traceable weight-loss certification is not possible.



KIN-TEK's Trace Source™ Permeation Tubes use a mixture of reagent grade nitric and sulfuric acids as the analyte source. The sulphuric acid binds the water, reducing water emission to negligible levels.  Emission of the sulfuric acid is extremely low compared to that of nitric acid, so the emission is primarily nitric acid.  Formation of nitrogen oxides in the vapor is minimized by dynamically blending the emission to form trace concentration mixtures that are then used immediately.



Tubes are available for concentrations from low ppb to to about 10 ppm in 1 l/min dilution flow.



For more information, please write or call:  KIN-TEK Laboratories, Inc., 504 Laurel, La Marque, TX  77568, Phone:  (409) 938-3627, Fax: (409) 938-3710, www.kin-tek.com , email:  sales@kin-tek.com



More from Chemicals & Gases