Permeable Pavers help minimize stormwater runoff.
Press Release Summary: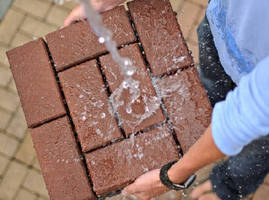 Available in 4 x 8 in. size, VAST Composite Permeable Pavers have infiltration rate of 450+ in./hr when installed with aggregate conforming to ASTM D448 No. 8. Pavers are manufactured in composite blend of up to 95% recycled car tires and plastic containers, offering Green alternative for decreasing stormwater runoff across hardscapes. Designed with spacer lugs that maintain 0.275 in. space in between, slip-resistant pavers ensure installation according to ADA Accessibility Guidelines.
---
Original Press Release:

New Permeable Pavers from VAST® Enterprises: VAST Composite Permeable Pavers in a 4x8-Inch Size



VAST Composite Permeable Pavers, the Newest VAST Pro Paver for Professional Landscape Contractors, Offer a Cradle-to-Cradle Green Alternative for Decreasing Stormwater Runoff across Hardscapes

MINNEAPOLIS - VAST® Enterprises, LLC, the material science research and manufacturing company that invented composite masonry for green building, announced the newest product in its line of VAST Pro Pavers for professional contractors: VAST Composite Permeable Pavers. VAST Composite Permeable Pavers reduce rain runoff into storm drains and decrease stormwater pollutants by infiltrating rainwater on building sites. The pavers have a tested infiltration rate of more than 450 inches per hour (4.9 gallons per square foot per minute) when installed with aggregate conforming to ASTM D448 No. 8.

"Landscape architects and professional contractors have been asking for our composite permeable pavers in a 4x8-inch size. In response, we accelerated development of our new larger permeable paver as part of the VAST Pro Pavers line," said Andy Vander Woude, chief executive officer, VAST Enterprises, LLC. "The 4x8 size is ideal for stormwater management in large commercial hardscape applications - including parking areas, plazas, courtyards, walkways and entryways."

"With our innovative composite material technology and high-tech manufacturing process, VAST has re-invented the permeable paver," said Troy Achterkirch, vice president, engineering and operations, VAST Enterprises, LLC. "VAST harmonizes hardscape beauty and durability, permeability and sustainability, and safety and accessibility."

VAST Composite Permeable Pavers offer a number of significant advantages:

Americans with Disabilities Act (ADA) Accessibility: VAST Composite Permeable Pavers are slip-resistant and manufactured with spacer lugs that are engineered to maintain a precise 0.275-inch space between pavers. This ensures that VAST Composite Permeable Pavers can be installed according to ADA Accessibility Guidelines for Buildings and Facilities (ADAAG) # 302.3, which calls for such spaces to be no greater than one-half inch wide.

Multiple Professional Performance Requirements: Like all VAST composite masonry products, VAST Composite Permeable Pavers are manufactured in VAST's proprietary composite blend of up to 95 percent recycled car tires and plastic containers. VAST Composite Pavers fulfill the most demanding requirements for hardscape beauty, design versatility, durability, and installation efficiency. VAST's composite material imparts deep colors, excellent slip resistance and unbeatable strength.

Lighter Weight: VAST Composite Permeable Pavers weigh 8.2 pounds per square foot, versus 30 or more pounds per square foot for concrete permeable pavers. This weight advantage makes VAST Pavers less energy-intensive and less costly to transport, easier to work with on job sites, and great for use in flat and green roof applications.

Installation Efficiency for Professional Contractors: VAST's patented grid system enables contractors to work more efficiently, saving time and reducing the amount of labor required for paver installation. The VAST grids (manufactured in the same composite material as the pavers) are laid out on the same type of sub-base required for landscape or permeable pavers made of concrete. Installers insert VAST Pavers into the grid in any designed pattern, and the pavers are automatically aligned for excellent results. Once the sub-base is prepared, using VAST can reduce the amount of time required to lay pavers by two-thirds compared to using concrete pavers.

Eco-Friendly, Socially Responsible: There is no better choice for green building and sustainable development projects than award-winning VAST Composite Pavers. VAST's environmental advantages make VAST Composite Permeable Pavers superior to other pervious pavement alternatives. The VAST manufacturing process begins with post-consumer recycled rubber and plastics, uses no water, requires 82 percent less energy and releases 89 percent less carbon dioxide than concrete product manufacture, generates no volatile organic compounds, yields zero scrap, and creates products that are 100 percent recyclable.

"VAST Composite Permeable Pavers are cradle-to-cradle green," said Steve Smith, vice president, business development, VAST Enterprises, LLC. "Permeable and green - that's the permeable paver re-invented."

VAST Enterprises, LLC

VAST applies its patented technology to transform recycled materials into a new resource for green building: composite masonry. VAST composite products - including landscape pavers, permeable pavers for stormwater management, deck pavers and thin brick - offer an engineered alternative to molded concrete and clay brick. VAST meets the most demanding requirements for aesthetics, durability, sustainability and installation efficiency. Award-winning VAST Pavers deliver rich colors, superior slip resistance and unbeatable strength at one-third the weight of concrete pavers. VAST can contribute to qualification for more LEED® credits than any other paver. Today, every 5,000-square foot VAST landscape installation keeps 2,500 scrap automobile tires and 75,000 plastic containers out of U.S. landfills. Tomorrow? The Future is VAST(TM). Learn more at vastpavers.com. Then call (612) 234-8958.

LEED® (Leadership in Energy and Environmental Design) is registered trademark of the U.S. Green Building Council.

Media Contact: David Aquilina (612) 234-8958 x 708 news@vastpavers.com

More from Machinery & Machining Tools