Permeable Composite Pavers are made of recycled material.
Press Release Summary: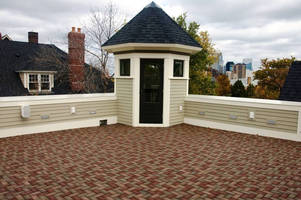 Manufactured from 95% recycled rubber tires and plastics, VAST Permeable Composite Pavers offer eco-friendly stormwater management option. With infiltration rate of more than 400 iph when installed with open-graded base, they can decrease rate and volume of rain runoff from parking lots, driveways, sidewalks and patios. Measuring 3 x 6 in., pavers weigh 11 lb/sq ft and provide structural strength, durability, and appearance to replace segmental concrete.
---
Original Press Release:

VAST Enterprises Offers a Superior Alternative for Permeable Pavers



A Cradle-to-Cradle Green Product for Hardscapes, VAST Permeable Composite Pavers Reduce Stormwater Runoff and Pollution. And their Weight Advantage Makes Them Ideal for Rooftop Patios and Green Roofs

MINNEAPOLIS - April 14, 2008 - VAST Enterprises, LLC, a material science research and manufacturing company, announced that it has introduced VAST Permeable Composite Pavers as a new stormwater management option for real estate developers, engineers, landscape architects and contractors. VAST Permeable Composite Pavers reduce water runoff into storm drains and decrease pollutants by infiltrating rainwater on building sites. With an independently tested infiltration rate of more than 400 inches per hour when installed with an open-graded base, VAST Permeable Composite Pavers decrease the rate and volume of rain runoff from parking lots, driveways, sidewalks and patios.

"Municipal building codes restricting the amount of impervious surfaces in all types of commercial construction, EPA's low-impact development framework, government clean water standards and LEED green building all make stormwater management an imperative for sustainable development," said Andy Vander Woude, chief executive officer, VAST Enterprises, LLC. "VAST Composite Pavers are superior to other permeable pavers because they are a green product and 100 percent recyclable."

VAST Enterprises has invented and patented technology that turns post-consumer recycled rubber and plastics into an environmentally friendly composite material for green building. The VAST scientific breakthrough: the world's first composite material that consists almost entirely of recycled materials and provides the structural strength, durability and appearance to replace segmental concrete. All VAST composite masonry products are made from up to 95 percent recycled scrap automobile tires and gallon-size plastic containers. VAST Composite Pavers are cradle-to-cradle green. They can contribute to six or more LEED® credits.

Keith Waters & Associates, Inc., a design/build firm in Eden Prairie, Minn., used VAST Permeable Composite Pavers for the 2,300-square foot driveway of the Midwest Living 2008 Idea Home. Located in the Portico on the Green development, a conservation neighborhood in Minnetonka, Minn. that features shared "village greens" and ecologically maintained woods and wetlands, the custom home harmonizes luxury and sustainability. It was designed and constructed according to LEED for Homes and Minnesota Greenstar certification standards. The permeable driveway is one of the home's essential stormwater management elements.

"It was important to keep our commitment to green building without compromising design quality. With VAST Permeable Composite Pavers you can complement the exterior of a home," said Kristene Heyer, designer and project manager, Keith Waters & Associates. "They resist a lot of the cracking, chipping and fading you get with a concrete paver product, and not only are they made from recycled material, the pavers are recyclable."

Measuring 3 inches x 6 inches, VAST Permeable Composite Pavers weigh 11 pounds per square foot, one-third the weight of concrete pavers. Their weight advantage makes them an ideal solution for rooftop patio and green roof applications.

"VAST Permeable Composite Pavers are easier to install on a flat roof than other products, provide a visually appealing alternative to composite and vinyl decking materials, and they are very low maintenance compared to wood," said Don Hayes, ABC Supply Co., Inc., Orono, Minn.

VAST Video

"Blueprint for Green" is the television show that is all about integrating green design principles and green building products in upscale, contemporary construction projects. The "Blueprint Green Uses Pavers on Green Roof" episode highlights the installation of VAST Permeable Composite Pavers as a key element of a residential green roof.

VAST Enterprises, LLC

VAST applies its patented technology to transform recycled materials into a new resource for green building: composite masonry. VAST composite products - including landscape pavers, deck pavers and brick wall fascia - offer an engineered alternative to both segmented concrete and clay. VAST meets the most demanding requirements for aesthetics, durability, sustainability and installation efficiency.

Available in standard and permeable versions for stormwater management, VAST pavers contribute to more LEED® credits than any other paver. Today, every 5,000-square foot landscape application keeps 2,500 scrap automobile tires and 75,000 gallon-size plastic containers out of U.S. landfills. Tomorrow? The Future is VAST. Learn more at vastpavers.com. Then call (612) 234-8958.

LEED® (Leadership in Energy and Environmental Design) is registered trademark of the U.S. Green Building Council