Permatex Threadlocker ORANGE Named Best New Aftermarket Adhesive in 2020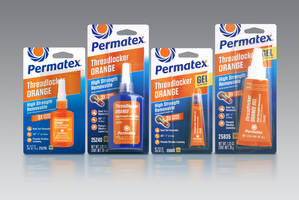 Recognized as winner in Motor magazine Top 20 Tools competition
Solon, OH… Permatex®, a leading innovator in chemical technology for automotive maintenance and repair, has received top honors for its new Permatex High Strength Removable Threadlocker ORANGE. The product line was named a Top 20 Tools award winner for 2020 by Motor magazine. Presented annually, the award recognizes tool and equipment manufacturers who develop new products with innovative features that help professional automotive technicians do a better job in diagnosing and repairing today's technologically-advanced vehicles.
Permatex High Strength Removable Threadlocker ORANGE is the latest innovation in the world of threadlockers. Previously, Permatex offered threadlockers in various grades of holding power ranging from low strength to permanent strength. However, high strength and permanent strength formulations require the use of localized heat and/or power tools for disassembly, and professional automotive technicians have been looking for a threadlocking solution for high vibration applications with holding power similar to a high strength red threadlocker, but with easy removability of a medium strength blue threadlocker.
Permatex engineers solved the problem by developing a new threadlocker that meets both requirements. Permatex Threadlocker ORANGE delivers 3X more holding power than a traditional blue threadlocker and holds against vibration loosening like a red threadlocker, but can be easily disassembled by regular hand tools.
To ensure a proper application in every situation, Permatex offers Threadlocker ORANGE as both a liquid and gel. While the traditional liquid formulation will work for most applications, Permatex's unique, gel formula works with a clinging action to assure that the threadlocker is applied with precision and stays on the fastener during assembly. This is especially useful when working with fasteners in overhead, vertical, or hard-to-reach positions.
Key applications include case half bolts, triple tree fasteners, flywheel bolts, stator bolts, axle nuts, and transmission mounting bolts. It can be used for indoor and outdoor applications on power tools, lawn and garden equipment, dirt bikes, industrial machinery, and heavy-duty construction equipment.
Permatex is a leading manufacturer, distributor, and marketer of premium chemical products to the automotive maintenance and repair markets. Since 1909, Permatex has been an acknowledged leader in the development of innovative new products and services for the automotive aftermarket. Permatex markets a wide range of products under well-known ITW brand names such as Permatex®, Fast Orange®, Spray Nine®, The Right Stuff®, Threadlocker Gel Twist®, and Grez-Off®.
Permatex currently operates in the United States, Canada, Mexico, and the U.K. and exports products to more than 85 countries around the world. North American operations include a headquarters and state-of-the-art manufacturing, distribution, and technical center in Solon, OH, and a management and sales office in Hartford, CT.
Permatex is a division of ITW (Illinois Tool Works Inc.), a US based, NYSE listed corporation, founded in 1912. ITW is a Fortune 200 diversified manufacturing company.
For More Information, Contact:
Ashley Khan 
Marketing Manager
Email: Ashley.Khan@Permatex.com
Phone: 905-693-8900 ext. 3221
Contact:
Tony Barolin 
Barolin + Spencer
(800) 536-6222
tbarolin@barolin-spencer.com
More from Communication Systems & Equipment