PermaNet+ Leak Detectors Chosen for 3.6 Million Person Water Utility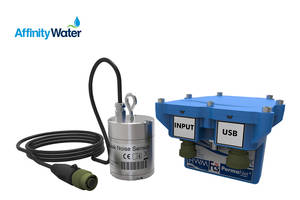 Devices sold in US by FCS identify leaks quicker than traditional methods
Milford, OH (March 29, 2017) – Britain's largest water-only utility has partnered with multi-utility monitoring and telemetry specialist HWM (known as FCS in the United States) to target significant reduction in leakage rates. In May 2017, Affinity Water will complete installation of 20,000 PermaNet+ fixed network telemetry systems to protect its network, which currently serves 3.6 million people.
PermaNet+ permanently monitors water network infrastructure without extensive site visits, identifying leaks more quickly than traditional methods and allowing for rapid deployment to fix any leaks that occur. This significantly reduces both water loss and the cost of identifying leaks within a water network.
"Using the HWM PermaNet+ solution, we can continuously monitor 25 percent of our network, identifying leaks in a matter of hours, rather than the days it takes using conventional techniques and technologies," said Drew Ritchie, managing director of wholesale operations at Affinity Water.
Data generated by the device is automatically sent to the user through a combination of GPRS cellular communication or SMS, removing the need to visit sites for data collection. The unit also sends an audio file for remote monitoring and correlation to pinpoint the leak position. PermaNet+ installs entirely underground, making it less intrusive and more practical for large-scale deployment.
"Of all the UK water companies, at Affinity Water we've set ourselves the largest percentage leakage reduction over the current five-year [AMP6] planning period," said Ritchie. "We're achieving this with HWM's PermaNet+, challenging industry thinking and methodologies to change the economics of finding leaks."
For additional information, visit the FCS website at www.fluidconservation.com or email sales@fluidconservation.com.
Company Profile:
FCS, a division of Halma Water Management, is the North American industry leader in water leak detection technology. FCS was the first organization to patent leak correlation technology, and today its products are installed with over 1000 utilities throughout the United States.
Company Contact:
Vincent Favre
Fluid Conservation Systems Inc.
502 TechneCenter Drive, Suite B
Milford, OH 45150 USA
Tel: +1 800.531.5465
Fax: +1 513.831.9336
E-mail: sales@fluidconservation.com
Website: www.fluidconservation.com
Related