Permanent Magnets lift heavy, complex work pieces.
Press Release Summary: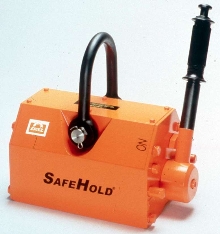 Able to handle round and flat materials, SafeHold® RPL-35 and RPL-70 can lift and transfer steel and iron without slings, hooks, or cables. Magnets do not require power supply, and internal on/off changeover mechanism eliminates possible scratches on work surface when loading or unloading. Models RPL-35 and RPL-70 feature capacities of 3,500 and 7,000 lb for flat materials and 1,750 and 3,500 lb for round materials, respectively.
---
Original Press Release:

Eriez Adds Two New Magnets to Its SafeHold® Product Line


Eriez Magnetics announced today that the company will extend its popular SafeHold® permanent lifting magnet line with the introduction of two new magnets, the RPL-35 and the RPL-70.

The RPL-35 has a lifting capacity of 3,500 pounds on flat materials and 1,750 pounds on round materials. The RPL-70 has a lifting capacity of 7,000 pounds on flat materials and 3,500 pounds on round materials.

Eriez RPL Series permanent lifting magnets make quick work of typically difficult and time-consuming steel handling by offering the user the ability to lift both round and flat materials with the same magnet. Plus, these magnets can lift and transfer steel and iron without slings, hooks or cables, therefore requiring fewer operators and helpers.

SafeHold® RPL Series permanent lifting magnets do not require a power supply, thus eliminating hazards due to failure of wiring systems or service interruptions. And, when properly installed and operated, can provide greater safety than other mechanical material handling devices.

With SafeHold® RPL Series lift magnets, operation is simple and trouble-free. An internal on/off changeover mechanism eliminates possible scratches on the work surface when loading or unloading. Additionally, customers can combine several RPL Series magnets to conform to the specific shape and weight of complex work pieces.

Eriez is recognized as world authority in advanced technology for magnetic, vibratory and metal detection applications. The company's magnetic lift and separation, metal detection, materials feeding, screening, conveying and controlling equipment have application in the process, metalworking, packaging, recycling, mining, aggregate, and textile industries. Eriez manufactures and markets these products through nine international facilities located on five continents. For more information, call toll-free in the U.S. and Canada at (800) 345- 4946 or (814) 835-6000. For online visitors, download product detail at www.eriez.com or send Email to eriez@eriez.com

More from Materials