Permanent Magnets lift flat and round materials.
Press Release Summary: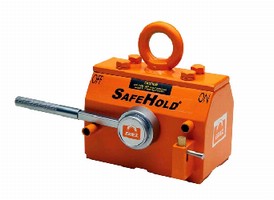 Constructed with Erium(TM) 3000 rare earth magnet material, SafeHold® XPL Magnets feature 2-pole design that enables users to lift flat materials up to 2,400 lb and round materials up to 1,600 lb. Units can lift and transfer steel and iron without slings, hooks, or cables. With internal on/off changeover mechanism, there is no scratching of work surface when loading/unloading. Since no electricity is required, potential of power failure interrupting operation is eliminated.
---
Original Press Release:

XPL SafeHold® Magnets Lift Both Flat and Round Materials With Ease



Eriez' new XPL SafeHold® Permanent Lifting Magnets allow users to lift either round or flat materials using the same magnet.

Constructed with Erium(TM) 3000 rare earth magnet material, the four new magnets in the SafeHold® line are small, lightweight and feature a powerful magnetic force. The two-pole design provides lifting versatility and enables the user to lift flat materials up to 2,400 pounds and round materials up to 1,600 pounds.

Operating SafeHold® XPL magnets is quick and easy, therefore fewer helpers are required. These innovatively designed magnets can lift and transfer steel and iron without slings, hooks or cables. Plus, when properly installed and operated, XPL magnets provide greater safety than other mechanical material handling devices.

With the XPL series, no electricity is required, so the potential of a power failure interrupting operation is eliminated. And because the continuous rare earth magnet provides the power until the magnet is turned off, there isn't any costly DC power supply or hassles of charging or replacing batteries.

Several SafeHold® magnets can be combined to conform to the specific shape and weight of complex work pieces. The XPL series is ideal for many machine shop operations, including the loading and uploading of the machining center. With its internal on/off changeover mechanism, there is no scratching of the work surface when loading/unloading.

The XPL SafeHold® magnets are all part of the EriezXpress program, a service that streamlines the order-to-ship process by simplifying product ordering, modifying inventory control and designating a dedicated team to make it all happen. Upon credit approval, orders received at Eriez-USA by 4:00PM will be processed and shipped the next business day.

Eriez is recognized as world authority in advanced technology for magnetic, vibratory and metal detection applications. The company's magnetic lift and separation, metal detection, materials feeding, screening, conveying and controlling equipment have application in the process, metalworking, packaging, recycling, mining, aggregate, and textile industries. Eriez manufactures and markets these products through nine international facilities located on five continents. For a copy of the Eriez brochure MB-2306, call toll-free in the U.S. and Canada at (888) 300-(ERIEZ) 3743 or (814) 835-6000. For online visitors, download product detail at www.eriez.com or send Email to eriez@eriez.com

More from Electronic Components & Devices