Permanent Magnet Synchronous Motors provide valve control.
Press Release Summary: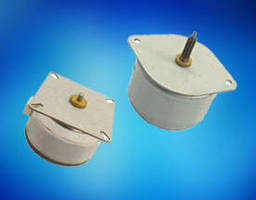 With 7.5 and 11.25 step angles, 50/60 Hz PMS Motors operate at synchronous speeds of 250, 300, 375, and 450 rpm. Units feature 100 MW insulation resistance, dielectric strength of 600 Vac, and operating temperature of -10 to 50°C. Available with or without gearbox, motors are suitable for valve control, office automation, and medical equipment.
---
Original Press Release:

Efficient Permanent Magnet Synchronous Motor



Houston - TelcoMotion is pleased to announce an efficient permanent magnet synchronous motor for valve control and other applications. The 50/60 Hz PMS motors operate at synchronous speeds of 250, 300, 375 and 450 rpm. They are much lighter and more compact than standard synchronous motors with the same "maintenance free" advantages. Due to high running torque, small step angle and small inertia design, this motor will promote the control accuracy of the flow and pressure control. Gearbox is available for the PMS motors.

Applications:

· Valve control

· Office Automation

· Medical Equipment

Features:

· High running torque

· Small step angle: 7.5 and 11.25

· Quiet and stable Operation

· Excellent open loop speed control

· Rugged, reliable, quiet, low profile and cost effective

· Significant efficiency improvement due to the internal rotor mounted magnets, over standard

· Available with or without a gearbox

· Directional Reliability

Synchronous Motor General Specifications:

· Insulation resistance: 100MW Min

· Dielectric strength: AC 600V / min

· Operating Temp: -10C ~ 50C

· Storage Temp: -30C ~ 80C

· Operating Humidity: 20[%]RH ~ 90[%]RH

· Insulation Class: E for Coils

More from Adhesives & Sealants