Permanent Magnet Scrap Drum suits recycling operations.
Press Release Summary: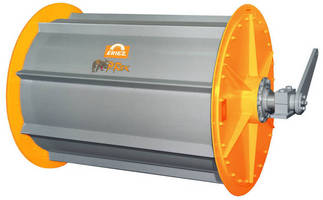 Able to last indefinitely, P-REX delivers optimal separation capabilities for scrap recycling operations and uses no electricity. Permanent magnet extends to edge of drum for optimized separation efficiency, and there is no decline in performance due to heat rise. Also, there is no transfer/flip point drop in magnetic force; ferrous material is transferred and flipped between magnetic poles to promote cleaner product and optimized recovery.
---
Original Press Release:

The Beast has Been Unleashed: Eriez P-REX Scrap Drum Revolutionizes Metal Recovery



Erie, PA--Eriez® introduced the remarkable, state-of-the-art, unbelievably powerful P-REX Scrap Drum at the 2010 Scrap Recycling Industry Expo. "The unbeatable separation capabilities P-REX offers will bring more profits to your scrap recycling operation," says Tim Shuttleworth, Eriez President and CEO. "P-REX enables better meatball recovery than ever before thought possible."

Engineering breakthroughs give P-REX the advantage in critical performance areas: superior edge-to-edge separation, no 'transfer point' drop in magnetic force and no decline in performance due to heat rise. "Prior to the introduction of P-REX, processors have had to accept reduced revenue because of more limited metal recovery systems - but no longer," says Shuttleworth.

Weak Zones
With today's electromagnetic drum magnets, a steel core is used to project the magnetic field. These cores generate a limited magnetic force at the drum edge because the electric coil that is wound around the core takes valuable space across the width of the drum, resulting in weak zones at the edges. These weak zones can amount to 20 percent or more of the surface of the drum.

Because the P-REX is a permanent magnet, it extends to the edge of the drum. That means wider and more efficient separation. Wider separation means greater profits through greater recovery.

Transfer Point Drops
Today's design of electro-axial drums have a significant reduction in magnetic strength at the transfer point, or "flip" point, along the arc of the ferrous material's travel, resulting in lost recovery. Not with the patent-pending P-REX. The ferrous material is powerfully transferred AND flipped from magnetic pole to magnetic pole to magnetic pole, resulting in a cleaner product and more recovery.

Heat Rise
Electro Drums consume power and heat up much like a light bulb does during use. The higher the heat, the greater is the loss in strength. Shuttleworth explains, "Check the gauss strength of your drum at the end of the shift and you will see that the electro drum has lost up to 30 percent of its strength." He adds, "In the summer and in southern climates, this can be an even greater issue."

P-REX's permanent magnets are permanent, they maintain their strength. P-REX lasts forever and uses no electricity. It is very strong with an attractive force that surpasses the largest and strongest electro drums on the market today. When comparing P-REX Drums to Electros, P-REX outperforms them by more than 20 percent during both hot and cold conditions.

Take the Meatball Challenge
When drum magnets don't operate at peak performance, large sphere-shaped meatballs and knuckles become impossible to capture. Fragments of electric motors and alternators and other items containing copper, aluminum and steel are missed, money is lost and dangerous fluff fires often result.

Eriez personnel can bring the power of P-REX to you! Interested parties can arrange for a P-REX demonstration at Eriez' Headquarters in Erie, Pennsylvania, or set up a demonstration at their own facility. To set up a demonstration or learn more about P-REX, contact Eriez today!

Eriez is recognized as world authority in advanced technology for magnetic, vibratory and inspection applications. The company's magnetic lift and separation, metal detection, x-ray, materials feeding, screening, conveying and controlling equipment have application in the process, metalworking, packaging, recycling, mining, aggregate and textile industries. Eriez manufactures and markets these products through ten international facilities located on six continents. For more information, call toll-free (888) 300-ERIEZ (3743) within the U.S. and Canada. For online users, visit www.eriez.com or send e-mail to eriez@eriez.com. Eriez World Headquarters is located at 2200 Asbury Road, Erie, PA 16506.