Permanent Magnet Material handles high temperatures.
Press Release Summary: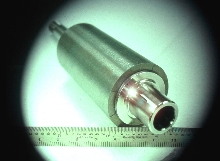 High-energy S3069 rare-earth samarium cobalt has high minimum energy product and residual flux density that does not compromise on intrinsic coercivity. It is stable at temperatures to 320ºC and in adverse demagnetizing conditions, and does not oxidize. Applications include high-performance stepping motors, synchronous motors, Hall effect sensors, torque couplings, sputtering equipment and traveling-wave tubes.
---
Original Press Release:
New Permanent Magnet Material Announced By Magnetic Component Engineering

Magnetic Component Engineering, Inc. (MCE), a designer and manufacturer of high performance magnets and magnetic assemblies, has announced a new class of permanent magnet material, ideal for use in demanding applications.

S3069 High Energy Rare-Earth Samarium Cobalt has a guaranteed high minimum energy product and a residual flux density that does not compromise on intrinsic coercivity. "Because S3069 is Samarium Cobalt based, this class of permanent magnet material can be used in demanding applications with temperatures as high as 320 degrees Centigrade, as well as adverse demagnetizing conditions," said Chris Nanji, MCE's General Manager. The excellent temperature coefficient gives S3069 stability over a wide temperature range. What's more, the material does not oxidize.

According to MCE, the new magnet material has applications in high performance stepping motors, synchronous motors, hall effect sensors, torque couplings, sputtering equipment and traveling-wave tubes (TWTs). Medical equipment manufacturers may find uses for S3069 in medical devices, both implantable and external. MCE is familiar with NSF and FDA requirements.

Founded in 1973, Magnetic Component Engineering, Inc. supplies the defense, aerospace, medical, computer, motor and communication industries with high performance permanent magnets, magnet assemblies, subassemblies, magnetic systems and custom shapes. MCE maintains an ISO-9001 and MIL-1-45208A registered manufacturing facility with a surveillance audit option that requires continuous independent audit. With additional internal audits, High Reliability component manufacturer audits, aerospace audits and Critical Component audits, the firm's Quality System is tested about 15 times each year.

With sales approaching $20 Million, the company has sustained a growth in excess of 25% annually since 1991.

Samarium Cobalt (Sintered)

Material Units S3069
Br (Nom.) kG 11.1
Br (Min.) kG 10.9
Hc (Nom.) kOe 10.3
Hci (Min.) kOe 19
BHmax (Nom.) mGOe 30.0
BHmax (Min.) mGOe 29.5
Hk (Nom.) kOe 15
Curie Temperature °C 800
Max. Oper. Temperature °C 320
Temp. Coeff. Of Br %/OC -0.03

More from Paints & Coatings