Permanent Lubricious Materials feature low COF.
Press Release Summary: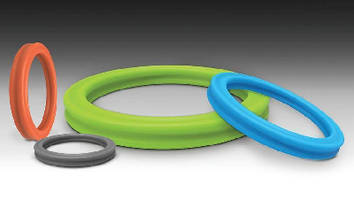 With inherent low coefficient of friction, Quniton™ Materials resist bonding or sticking to wide range of materials and offer extended lifespan due to minimized wear and abrasion. Materials retain all performance attributes including chemical and thermal stability, and are suitable for applications with severe chemical exposure and temperatures as high as 500°F. Typical applications include water heater valves, flow meters, syringe plugs, plunger seals, and vial seals.
---
Original Press Release:

Minnesota Rubber & Plastics Introduces Quniton(TM) a New Family of Permanent, Highly Lubricious Materials



Minneapolis, Minnesota – Minnesota Rubber and Plastics developed Quniton™ to meet a market need for a high-performance lubricious product with permanent, low coefficient of friction (CoF) surface properties. Quniton™ is suitable for a variety of applications in markets such as water, power, transportation, medical, and pharma.



Quniton™ is designed to have a low CoF, and resists bonding or sticking to a wide range of materials. Relative to other materials, Qunition™ is only a fraction of the CoF values. This is true for other common seal materials such as EPDM or Silicone as well. Lower CoF has many benefits, including enhanced product lifespan due to reduced wear and abrasion. In manufacturing operations, Quniton™ has unique properties which means less surface preparation requirements and faster assembly.



Unlike many current products which are merely coated, Quniton™ is inherently low CoF. Previously, designers had to rely on coatings of the elastomers with products such as molybdenum disulfide, graphite, silicone oil or PTFE powder. The drawback to these coatings is that they are often not acceptable for the customer's applications. They can be washed away from the surface and do not lend themselves to repeated autoclaving. They may also cause contamination of the application. Quniton™ retains all of the performance attributes of the high performance material including chemical and thermal stability. It is suitable for applications with severe chemical exposure including acids, bases and solvents; and for temperature as high as 500°F (262°C).



Quniton™ unique properties make it a new important material for engineers and product designers. Lih Fang Chew, Minnesota Rubber and Plastics, Global Vice President of Marketing stated, "In today's demanding manufacturing environment, there are millions of products which require seals and components that can endure thousands of cycles without the loss of friction properties, and Quniton™ provides those benefits."



Some typical Quniton™ applications include water heater valves, flow meters, syringe plugs, plunger seals, vial seals, and seals for larger syringes and plungers, rotary shaft and actuator seals, and standard O-rings and Quad rings. Quniton™  is also useful in ozonated and high-dosage UV streams used for sanitization. Any metal to rubber interface or any dynamic seal in contact with transmission oil or fuels are also excellent applications.



For information on designing seals and products using Quniton™, call 952-927-1400. 

Email: webmaster@mnrubber.com  

Website: www.mnrubber.com



Minnesota Rubber and Plastics

1100 Xenium Lane North

Minneapolis, Minnesota 55441



More from Health, Medical, & Dental Supplies and Equipment