Perkins Home Hardware in North Gower New Dealer for RailEasy Cable Railing System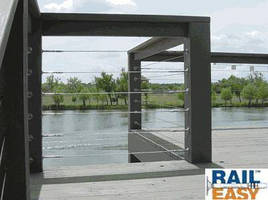 Otter Creek is pleased to announce that effective July 1st, 2013 that Perkins Home Hardware is a new dealer for the RailEasy Cable Railing System. If your a homeowner or contractor looking for a sleek and elegant railing system made from stainless steel the RailEasy Cable Railing System should be your next purchase.



The RailEasy system consists of stainless steel turnbuckles and wire rope and gets assembled to wood posts both horizontally or vertically. The system installs very easily and you can have a beautiful system that allows for unobstructed views in just a few hours. The cable railing gets installed in three easy steps. 



The RailEasy Cable Railing System is sold through home improvement companies in Canada such as Home Hardware, Castle Building Centres, Timber Mart and Rona locations. The system is a special order item with the dealers so just walk in and ask the dealer to contact Otter Creek the Canadian distributor at 1-800-981-3590 and will ship your order directly to the store.



More from Optics & Photonics