Peristaltic Pumps suit industrial processing applications.
Press Release Summary: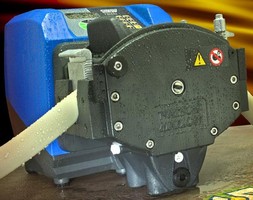 Designed for metering and dosing of corrosive, abrasive, and sensitive fluids with repeatability of 99.5%, 720 Series enables contamination-free transfer of acids, paints, oils, inks, dyes, or waste slurries. NEMA 4X washdown-duty case withstands harsh environments, and LoadSure® tube elements enable one minute maintenance. Supplied with choice of analog or digital control, self-priming and non-contacting series offers up to 8.8 gpm single-channel flows and 17.6 dual-channel flows.
---
Original Press Release:

Watson-Marlow Bredel to Showcase New 720 Series Peristaltic Pumps for Industrial Processing Applications at Chem Show 2007



For More Information, Visit Booth # 1351

Watson-Marlow Bredel, the leading manufacturer of peristaltic pumps, will showcase its processing solutions for industrial applications, including its 720 Series peristaltic pump, in booth number 1351 at the upcoming Chem Show 2007 Chemical Process Industries Exposition, from October 30-November 1 in New York, N.Y. The 720 Series is designed for accurate metering and dosing of corrosive, abrasive and sensitive fluids, and is ideal for the contamination-free transfer of acids, paints, oils, inks, dyes or waste slurries found in industrial, chemical, pulp and paper, printing, and food processing markets. The newest addition to the Watson-Marlow Bredel family, the 720 pump allows for increased capacity and tighter flow control.

The 720 pump is available with Watson-Marlow Bredel's standard five-year warranty, offered on its 520, 620 and 720 series peristaltic pumps used in industrial applications. Offering a smaller footprint than other industrial pumps with similar flow rates, the 720 Series provides low shear and non-contacting pumping with minimal downtime. The 720 Series includes single channel flows up to 8.8 GPM and 17.6 GPM through two individual tubes, as well as a choice of analog or digital control and is available in a rugged NEMA 4X wash-down case for reliable performance even in the harshest environments.

The 720 pump features LoadSure® tube elements for easy one minute maintenance and is offered with the now-standard Watson-Marlow Bredel five-year warranty, the longest of any peristaltic pump manufacturer.

Every Watson-Marlow Bredel peristaltic pump is an inherent metering pump with repeatability at 99.5 percent. Many models include integral digital drives and displays in washdown enclosures. These self-priming pumps accommodate flow rates from 0.1 microliter to 350 gpm, and are extremely durable, withstanding pressures up to 232 psi. There are no internal universal joints, valves, dead corners, or glands to impede flow, and these pumps are reversible for back flushing lines. They can also run dry indefinitely without damage and provide up to a 30 foot suction lift.

About Watson-Marlow Bredel
Watson-Marlow Bredel Pumps is the leading manufacturer of peristaltic pumps. For over 50 years they have been solving fluid handling problems with peristaltic pumping technology. Products are manufactured in an ISO 9001:2000 facility.

For more information about Watson-Marlow Bredel, or call (800) 282-8823, email:
support@wmbpumps.com, or visit our website at www.watson-marlow.com.