Peristaltic Pumps suit industrial processing applications.
Press Release Summary: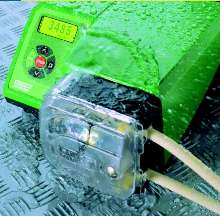 Equipped with NEMA 4X washdown sealed enclosure, 520 series pumps meter and dose corrosive, abrasive, and sensitive fluids. Pumphead features low-friction, stainless steel rollers and 0.1 rpm resolution rotational speeds. Single unit accepts 8 different tubing materials and sizes up to 9.6 mm for flow rates from 4 µl/min to 55.5 gph at 30 psi. Pumps are offered in models with manual, digital, or combination manual, auto-analog, and remote controls.
---
Original Press Release:

Watson-Marlow Bredel Introduces its 520 NEMA 4X Washdown Pumps for Industrial Processing Applications


Flow rates up to 55.5gph and pressure up to 30 psi, increasing flow by 59%

Watson-Marlow Bredel, the leading manufacturer of peristaltic pumps, introduces its 520 NEMA 4X line of peristaltic pumps. With a NEMA 4X washdown sealed enclosure, the new 520 pumps offer superior reliability and performance under harsh processing conditions. Designed for accurate metering and dosing of corrosive, abrasive and sensitive fluids, the new rugged 520 series is ideal for the contamination-free transfer of acids, paints, oils, inks, dyes or waste slurries found in chemical, pulp and paper, printing and food processing applications.

The new 520 pumphead features a large swept volume with low friction stainless steel rollers for superior accuracy. The pumphead's large diameter track and low rotational speeds (0.1 rpm resolution) provide increased tube life. The large rotor hub has a clutch to allow for easy tube loading. For ultimate processing flexibility and increasing flow rates, Watson-Marlow Bredel's 520 pumphead accepts eight different tubing materials and sizes up to 9.6mm for flow rates ranging from 4 microliters/min up to 55.5 gph at 30 psi.

Equipped with a DC brushless motor for zero-maintenance, the new 520 series offers continuous operation with minimal downtime and maximum throughput. Additionally, the new 520 pumps provide software controlled speeds ranging from 2200:1, flows ranging from 875,000:1 with a set speed of 0.1% for accurate metering.

Watson-Marlow Bredel's new 520 NEMA 4X washdown pumps are available in three models offering a range of industrial control options. The 520SN provides manual control for rapid priming and purging. The manual keypad lock prevents tempering and accidental change. Outfitted with manual, analog and remote control features, the 520UN is digitally controlled and offers four digital 5V TTL or 24V industrial logic standard inputs. The 520DuN operates with manual, auto-analog and remote controls, providing calibration flow and speed control, as well as RS485 for network control of up to 32 pumps. Additionally, all pumps feature MemoDose technology for accurate single-shot dispensing.

About Watson-Marlow Bredel
Watson-Marlow Bredel Pumps is the leading manufacturer of peristaltic pumps. For over 40 years they have been solving fluid handling problems with peristaltic pumping technology. Products are manufactured in an ISO 9001 facility.

For more information about Watson-Marlow Bredel, or call (800) 282-8823, email: support@wmbpumps.com, or visit our website, www.wmbpumps.com.

More from Electrical Equipment & Systems