Peristaltic Pump suits heavy duty industrial applications.
Press Release Summary: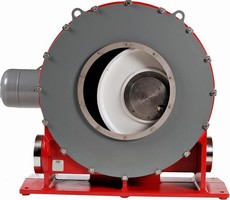 With flow capacity of up to 40 m³/h and max operating pressure of 7.5 bar, Model LPP80 peristaltic pump handles abrasive, corrosive, viscous, or crystallizing media and slurries with high solid content. Rugged unit is equipped with in-line pipe connections, optional hose leak detection unit, and adjustment mechanism that senses hose wear when compression is readjusted. Eliminating friction, pump features roller that is mounted on crankshaft for eccentric rotation during 360° operating cycle.
---
Original Press Release:

Introducing the Larox LPP80 Peristaltic Pump



January 29, 2007

The Latest Standard in Peristaltic Pump Technology

Lappeenranta, Finland (January, 2007) - Larox Flowsys. Larox Flowsys, the preferred supplier of cutting-edge flow control technology, announces the launch of its product range expansion, the Larox LPP80 peristaltic pump.

"The purpose of the LPP80 product development was to meet demands for a high-volume pump designed for heavy industrial duties as required in most mineral processing and metallurgical applications. The process has resulted in a peristaltic pump with exceptional performance and reliability," says Matti Riihimaki of Larox Flowsys Pump Products.

The Larox LPP pumps incorporate a unique patented rolling design, which is the first real change in the industry in over 30 years. This advanced design eliminates friction, maximizes hose life and lowers energy consumption. The roller is mounted on a crankshaft creating eccentric rotation during the 360 degree operating cycle. Compared to conventional peristaltic pumps, the LPP pumps generate 100% more flow per compression. This significant benefit cannot be overstated.

Highly robust and reliable, these pumps can handle abrasive, corrosive, viscous or crystallizing media and slurries with high solid content. The new LPP80 pump has a flow capacity of up to 40 m3/h and a maximum operating pressure of 7.5 bar. Larox LPP peristaltic pumps are equipped with in-line pipe connections; an optional hose leak detection unit and a patented adjustment mechanism that senses hose wear when compression is readjusted. This helps to maximize hose lifetime and minimize the risk of over-compression. The compression adjustment is based on measuring the compression force making readjustment easy.

TECHNICAL FEATURES
o Only the hose is in contact with the medium
o No gland water or packing
o Full vacuum capability
o No backward flow
o 360 degree operating cycle
o In-line pipe connection

PROCESS BENEFITS
o No wear and corrosion
o Dry run capability
o Self-priming
o Exact flow per revolution
o Extended hose life
o No overheating
o Lower operating costs

PRODUCT SPECIFICATIONS
o Flow capacity: Up to 40 m3/h
o Maximum operating pressure: 7.5 bar
o Standard drive unit: Helical bevel geared motor
o Auxiliaries: Pressure transmitter with display, revolution detector, hose leak detector, connector hoses, connector flange for pressure transmitter

Headquartered in Lappeenranta, Finland, Larox Flowsys Oy is the preferred supplier of cutting-edge flow control technology. Our product range includes pinch valves and peristaltic pumps. We focus on abrasive, corrosive and other demanding shut-off, control and pumping applications serving a wide range of process industries worldwide.

To learn more about Larox Flowsys and its expanded product offerings and brands, visit http://www.larox.fi/flowsys/.

For more information, contact
Mr Matti Riihimaki
Vice President, Pump Products
Larox Flowsys Oy
P.O.Box 338
53101 Lappeenranta, Finland
Tel. +358 201 113 311
Fax +358 201 113 300
matti.riihimaki@larox.fi

Press Contacts
Ms Katja Tiikasalo
Marketing Communications
Larox Flowsys Oy
P.O.Box 338
53101 Lappeenranta, Finland
Tel. +358 201 113 311
Fax +358 201 113 300
katja.tiikasalo@larox.fi

More from Computer Hardware & Peripherals