Peristaltic Pump features disposable tubing system.
Press Release Summary: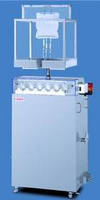 Intended for filling syringes, vials, and other containers for liquid drugs, peristaltic pump system consists of peristaltic pumps and disposable tubing system integrated with filling machine control system, drive, and controllers. Offset alignment of pump rollers ensures low pulsation volumetric flow for accurate dosing and reduced strain on tubing. Along with 0.1-30 mL filling range, system features disposable tubing to ensure product quality by eliminating cross contamination risk.
---
Original Press Release:

New Peristaltic Pump with Disposable Tubing System High Efficiency and Cost Effectiveness



Offset rollers provide low pulsation and guarantees dosage accuracy
Filling capability ranges from 0.1 milliliter to 30 milliliters
Precision roller alignment ensure long tubing life

The new peristaltic pump system from Bosch Packaging Technology, one of the leading suppliers of complete systems for packaging and processing technology, enables high filling accuracy and cost effectiveness in pharmaceutical applications. Ideal for filling syringes, vials and other containers for liquid drugs, the system consists of peristaltic pumps and a disposable tubing system that are fully integrated with a filling machine control system, drive and controllers. With a filling range of 0.1 milliliter to 30 milliliters, Bosch's peristaltic pump system enables significant production flexibility, including the ability to handle even smaller filling volumes.

Offset alignment of the pump rollers guarantees a low pulsation volumetric flow for highly accurate dosing results. Greater production efficiency is also achieved through the optimized roller alignment, which reduces the strain on the tubing to permit longer periods of use.

By using disposable tubing, the new peristaltic pump system ensures product quality by eliminating the risk of cross contamination and reduces downtime associated with product changeovers by streamlining the changeover process. The pump can be easily opened and closed to facilitate one-handed tubing exchange, increasing overall equipment effectiveness (OEE) and ease of operation.

"Production quality and efficiency are main objectives for pharmaceutical manufacturers worldwide and the new peristaltic pump system is one way that Bosch can help customers meet these two objectives," said Tom McDaniel, President of Bosch Packaging Technology in Minneapolis. "With the benefit of a single use product path and high accuracy dosing, this system enhances flexibility and efficiency of small volume, high value drug filling."

About Bosch Packaging Technology
Bosch Packaging Technology, based in Waiblingen (Germany), is one of the leading suppliers for complete systems for packaging and process technology. In 16 countries worldwide the company develops, produces and distributes modules and systems for the pharmaceutical, confectionery, and cosmetics industries, as well as other food and non-food industries. In 2009, 4,800 associates achieved a turnover of approximately 702 million euros. For more information, please visit www.boschpackaging.com.

The Bosch Group is a leading global supplier of technology and services. According to preliminary figures, some 270,000 associates generated sales of roughly 38 billion euros in the areas of automotive and industrial technology, consumer goods, and building technology in fiscal 2009. The Bosch Group comprises Robert Bosch GmbH and its more than 300 subsidiaries and regional companies in over 60 countries. If its sales and service partners are included, then Bosch is represented in roughly 150 countries. This worldwide development, manufacturing, and sales network is the foundation for further growth. Each year, Bosch spends more than 3.5 billion euros for research and development, and applies for over 3,000 patents worldwide. With all its products and services, Bosch enhances the quality of life by providing solutions which are both innovative and beneficial.

The company was set up in Stuttgart in 1886 by Robert Bosch (1861-1942) as "Workshop for Precision Mechanics and Electrical Engineering." The special ownership structure of Robert Bosch GmbH guarantees the entrepreneurial freedom of the Bosch Group, making it possible for the company to plan over the long term and to undertake significant up-front investments in the safeguarding of its future. Ninety-two percent of the share capital of Robert Bosch GmbH is held by Robert Bosch Stiftung GmbH, a charitable foundation. The majority of voting rights are held by Robert Bosch Industrietreuhand KG, an industrial trust. The entrepreneurial ownership functions are carried out by the trust. The remaining shares are held by the Bosch family and by Robert Bosch GmbH.

Additional information can be accessed at www.bosch.com.

© ABI 2010 All Rights Reserved

Related