Peristaltic Liquid Pump accurately meters color.
Press Release Summary: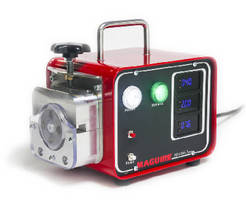 Designed to accurately meter color into molding or extrusion process, PeriStep™ Pump simplifies color changes and requires minimal maintenance. Stepper motor shaft rotates in discrete, minute increments for precision and repeatability of movement. Motor drives central sun roller, whose motion transfers to 4 planetary rollers that provide compression/relaxation cycle of peristaltic pump. To maintain dosing consistency, pump has self-adjusting automatic speed control.
---
Original Press Release:

Low-Cost Liquid Color Pump Is More Accurate and Easier to Operate than Standard Pumps and Needs Less Maintenance



Stepper Motor Drive and Simplified Peristaltic Roller System Enable New PeriStep™ Pump from Maguire Products to Dose Liquid Color with High Degree of Precision



ASTON, PA, U.S.A. – A liquid color pump of completely new design costs 35% less than existing equipment yet meters color more accurately into the molding or extrusion process, simplifies job startups and color changes, and requires minimal maintenance, it was announced today by Maguire Products, Inc.



Compared with standard volumetric pumps, the patent-pending PeriStep™ pump provides 20% greater accuracy in dosing liquid color directly into the main flow of natural resin, and it includes a self-adjusting automatic speed control that maintains dosing consistency. Setting the control for startup involves a simple, intuitive three-step process. For color changes, the operator merely retracts the top cover of the pump and lays a new tube over the rollers inside, without need of working the tube into a compression zone. Tubing is reusable for up to six months and is available in three sizes to accommodate a range of dosing outputs.



Two innovations (U.S. patent application 62/025) are key to the low cost, accuracy, and simplicity of the PeriStep liquid color pump. Instead of a standard motor, the drive system is a stepper motor whose shaft rotates in discrete, minute increments that make possible precision and repeatability of movement. This motor drives a central "sun" roller, whose motion transfers to the "planetary" rollers that provide the compression / relaxation cycle of a peristaltic pump. Maguire has reduced the number of planetary rollers to four from the conventional six. The sun roller drives the planetary rollers by means of friction contact, providing a 5 to 1 speed reduction without a gear box.



"The compact, streamlined design of the PeriStep pump lends itself to minimal maintenance, since there are no gears or bearings to wear out," said Steve Maguire, president of Maguire Products. "If it does become necessary to disassemble the pump, access to the roller set involves simply removing three screws in the cover."



The process for setting up a job in the controller of the PeriStep pump involves only three digital inputs: 1) shot weight (for injection molding) or extrusion rate; 2) liquid color percentage; and 3) density of the liquid color. The controller automatically calculates the desired weight-to-volume dose, minimizing the opportunity for error.



MAGUIRE PRODUCTS, INC., headquartered in Aston, Pennsylvania, U.S.A., is the world's largest supplier of gravimetric blenders, liquid color pumps, and vacuum dryers and also manufactures loading systems, auger feeders, granulators and related equipment and software. Its customers include injection, blow, and rotational molders, extrusion processors, and compounders. Founded in 1977, Maguire operates six manufacturing facilities in Aston. The company maintains a network of distributors in the Americas and overseas and has three sales and service subsidiaries that stock, sell, and service auxiliary equipment systems from Maguire and its affiliate, Novatec, Inc.: Maguire Canada, Maguire Europe, and Maguire Asia. Visit www.maguire.com



Maguire Products, Inc., 11 Crozerville Road, Aston, PA 19014 USA. Tel: 1-610-459-4300. pat@maguire.com. Maguire Canada, 299 Basaltic Road, Unit 1, Vaughan, Ontario L4K 4W8. Tel: 905-879-1100. info@maguirecanada.com. Maguire Europe, Vanguard, Tame Park, Tamworth, Staffordshire B77 5DY United Kingdom. Tel: 44-1827-265-850. paul@maguire-europe.com. Maguire Europe (Italy), Maguire Italia SRL, Padova, Italy. Tel: 39-049-970-5429. Italia@maguire-europe.com. Maguire Asia, Maguire Products Asia Pte Ltd., 15 Changi North Street 1, #01-15, I-Lofts, Singapore 498765. Tel: 65-6848-7117. magasia@maguire-products.com.sg. Maguire Asia (China), Maguire Products Asia Co. Ltd., 7C-02 Majesty Building, 138 Pu Dong Avenue, Shanghai 200120 China. Tel: 86-21-588-23410. mpa@maguirechina.com.

More from Software