Perforated Stainless Steel offers strength and longevity.
Press Release Summary: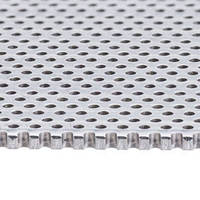 Featuring holes smaller than overall thickness of material, SuperPerf is available in numerous 60° staggered orientation patterns. Perforated stainless steel helps OEMs and fabricators create completely new products that were impossible until now with optimized strength. In addition to products that require high-pressure resistance, including filtration, separation, and screening equipment, SuperPerf is suited for material processing, power generation, and heavy equipment applications.
---
Original Press Release:

Accurate Perforating Announces SuperPerf Perforated Stainless Steel



New perforated metal provides perforated holes in stainless steel that are smaller than the overall thickness of the material – stronger than standard perforated metal; faster and more economical than other fabrication methods.



Chicago, Ill., – Accurate Perforating and Metal Fabricating (www.accurateperforating.com; www.accuratemetalfab.com), a leading metal perforator and precision sheet metal fabricator, now offers perforated stainless steel with holes smaller than the overall material thickness.



High-ratio (material thickness-to-hole diameter) perforated stainless steel like this was previously considered unattainable by standard perforators as technology restricted perforations to a larger hole diameter to material thickness ratio to ensure quality, consistency, and functionality. Now, SuperPerf offers the same trusted benefits of conventional perforated metal but with holes smaller than the material thickness. SuperPerf is less expensive and faster than non-perforating methods like water jetting, laser cutting, and plasma cutting with equal or superior quality.



Made possible by an advanced perforating technology, SuperPerf is available in stainless steel, one of the most challenging and strongest of metals, and is offered in numerous 60-degree staggered orientation patterns. Get all the benefits of the traditional metal perforating process with the advantages of small holes in thick stainless steel.



"Accurate Perforating and Metal Fabricating is proud to offer this high-ratio perforated metal. SuperPerf can help fabricators and OEMs build better products, meet faster lead-times, and improve their bottom lines," said Aaron Kamins, president of the Accurate Companies. "With SuperPerf, the limits of perforated metal are raised. Now, fabricators and manufacturers can realize new possibilities in design, functionality and performance." Utilize thicker perforated metal to increase your product's capabilities and strength. Create completely new products that haven't been possible until now. Increase customer satisfaction by offering better, longer-lasting products. Reduce costs by switching from expensive punching, water jetting and drilling methods. Offer increased product strength over material weakened and distorted through the laser and plasma cutting processes



SuperPerf helps original equipment manufacturers (OEMs) and fabricators create completely new products that were impossible until now with increased product strength and performance. SuperPerf also offers enhanced weldability and fabrication compared to high-heat hole-producing processes.



SuperPerf is ideal for products that require high-pressure resistance, including filtration, separation and screening equipment. Its durable, high-quality and accurate perforations add strength and longevity, which also makes SuperPerf an ideal solution for material processing, food production, power generation and heavy equipment applications.



About Accurate Perforating & Metal Fabricating

Founded in 1942, Accurate Perforating & Metal Fabricating is a leader in the design, manufacturing and fulfillment of perforated metal and precision fabricated sheet metal material, parts and components for industrial, commercial and residential markets. Their products are used in a wide variety of applications from building facades, filtration, and noise control to electronic enclosures, lighting fixtures, and retail merchandising. Accurate directly and indirectly services some of the largest brands in the world through original equipment manufacturers (OEMs), fabricators and point-of-purchase display design houses. The company's capabilities include design/engineering support, perforating, punching, forming, laser cutting, welding, assembly, finishing, packaging and fulfillment.



For more information on SuperPerf or Accurate's capabilities, services and equipment, visit: www.accurateperforating.com; www.accuratemetalfab.com; www.accurateperforating.com/SuperPerf

More from Materials