Perfluorinated Oils and Greases are H-1 approved.
Press Release Summary: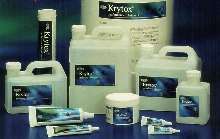 Krytox® FG products, approved for H-1 food processing applications, perform at operating temperatures from -70 to +762°F (continuous use), are insoluble in water, and resist any water washout. Rust and corrosion resistant, they are also non-flammable and chemically inert. Compatible with all metals, elastomers, and plastics, products do not carbonize. Oils are clear, non-staining, and non-migrating. Greases are clean, pure white, and non-migrating.
---
Original Press Release:

DuPont Performance Lubricants Introduces New H-1 Food Grade Krytox® Lubricants


Premier Lubricants Approved For Incidental Food Contact

WILMINGTON, Del., July 2, 2002 -- DuPont Performance Lubricants introduces Krytox® FG, a new line of perfluorinated oils and greases that were recently approved by NSF for H-1 food processing applications. Similar to existing DuPont(TM) Krytox® products that are H-2 approved. the new line represents the highest level of performance in lubrication technology. Now, for the first time, Krytox® is available with an H-1 rating for incidental food contact, which means food processors will be able to experience the superior lubrication performance as other industries have for over 40 years. Krytox® offers significant cost savings versus current H-1 lubricants, based on operating temperatures up to 399°C (762°F) in continuous use.

"Krytox® FG is designed to meet the demands in food processing plants that experience production downtime due to extreme operating temperatures," said Bruce Ulissi, market manager for DuPont Performance Lubricants. "Equipment downtime due to bearing failure is a major factor in productivity losses. These new oils and greases have superior durability and will allow significant improvement in bearing and conveyor chain life. In the past, high operating temperatures would break down and carbonize standard lubricants, requiring bearing replacement or frequent reapplication of oil or grease. Due to their excellent thermal stability, Krytox® FG products extend bearing life and last significantly longer, minimizing or eliminating reapplication."

In addition, Krytox® FG oils and greases are durable in the most aggressive environments where temperatures reach extremes that exceed the capabilities of conventional lubricants. Krytox® FG can perform at operating temperatures up to 399°C (762°F) for continuous use, exceeding requirements in the food industry, and providing a safe margin of protection for food processors. Krytox® FG oils and greases are recommended for use in all types of equipment and machinery used to prepare, process, produce, and package food and pharmaceuticals where incidental contact with the lubricant is a possibility. They are insoluble in water and will resist any water washout. They resist rust and corrosion and perform well under extreme pressures. Applications include conveyor chains and bearings, high-temperature fans and ovens, gearboxes, vacuum pumps, and valves.

Krytox® lubricants are based on aerospace fluoropolymer technology, capable of operating over the broadest range of temperatures (-70°F to 762°F, with spikes up to over 800°F). They have been used for over 40 years in aerospace, automotive, semiconductor, and chemical processing industries and are regarded as the highest performing lubricants available. They are non-flammable, chemically inert, and compatible with all metals, elastomers, and plastics. They do not carbonize-- enabling ease in equipment maintenance and facility cleanup. The oils are clear, non-staining, and non-migrating. The greases are clean, pure white and non-migrating.

For more information on DuPont(TM) Krytox® performance lubricants, including distributors for these products, call 1-800-424-7502 or, visit the DuPont Web site www.krytox.com .

During 2002, DuPont is celebrating its 200th year of scientific achievement and innovation - providing products and services that improve the lives of people everywhere.

Based in Wilmington, Del., DuPont delivers science-based solutions for markets that make a difference in people's lives in food and nutrition; health care; apparel; home and construction; electronics; and transportation.


Related