Perfection In Mobile TIG Welding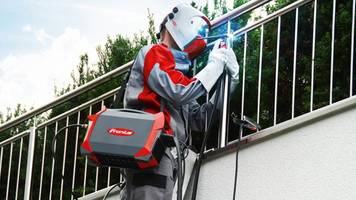 Fronius has expanded its range of battery-operated welding solutions to include a variant for TIG welding.Weighing 10.9 kg, the AccuPocket 150/400 TIG is just as handy as the device already available for MMAwelding, which has impressed with its TIG functions such as the touchdown ignition and TIG Comfort Stop(TCS). However, the AccuPocket TIG also offers additional, powerful TIG functions such as a two and four-stepswitchover, which facilitate the welding of thin sheets in particular.
The TIG pulse function of the new AccuPocket is of central importance to TIG welders, as this ensures reducedheat input, improved gap-bridging ability and a better weld seam appearance. This can also be used to achievea weave pattern in the weld seam typical of TIG welding, in which the two components are to be joined withoutthe use of filler metal (autogenous). With the TAC function, the customer can quickly and safely join the basematerial at the start of welding as well as during setting out and tacking.
In addition, the AccuPocket TIG has an integrated gas solenoid valve, which guarantees an optimum gas shieldin the start and stop phase. Particular attention has also been paid to the newly developed welding torch for thismobile TIG welding innovation. It has a TIG Multi Connector and a built-in UpDown switch that reduces themain current during the welding process. This regulates the heat input and considerably reduces the risk ofburn-through.
More from Electronic Components & Devices