Peracetic Acid Test Strip offers extended range detection.
Press Release Summary: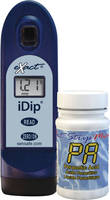 When used in 525 nm eXact® Photometers, eXact® Strip Micro Peracetic Acid test strip can, as enabled by reagent system, detect Peracetic Acid (PAA) at concentrations up to 590 ppm. Peracetic acid is used as anti-microbial agent, which FDA recommends is under 220 ppm for washing meat. Thus this testing solution enables food processing facilities to assess FDA compliance.
---
Original Press Release:

ITS Adds Extended Range Photometric Method for Detection of Peracetic Acid



New Peracetic Acid added to photometric testing capabilities



Rock Hill, SC - Industrial Test Systems, Inc. (ITS) has released the eXact® Strip Micro Peracetic Acid test strip which can detect Peracetic Acid (PAA) at concentration up to 590 parts per million (ppm) when used in the 525nm eXact® Photometers.



With the addition of the new extended range Peracetic Acid test method, users will be able to quantify concentrations of PAA from 0 to 590 ppm. ITS has employed an entirely new reagent system in order to achieve this extended range. Previous test methods from ITS were able to detect concentrations of PAA from 0-11 ppm. Peracetic acid is used as an anti-microbial agent which the FDA recommends is under 220 ppm for washing meat. The addition of this new range gives food processing facilities the ability to test for FDA compliance of these solutions.



Photometric testing is more precise and reliable than visual test methods while remaining cost effective. The patent pending eXact® Strip Micro reagent delivery system for use in eXact® Photometers allows for precise, accurate, and reliable measurement of trace chemicals in water.



Visit www.sensafe.com and follow them on Twitter (@sensafe) and Facebook (https://www.facebook.com/sensafe/) for news and updates!



About Industrial Test Systems, Inc. (ITS)

For over 25 years, Industrial Test Systems, Inc. has been a leading manufacturer and developer of instruments and chemistries designed to test water quality. ITS caters to the water testing needs of municipal water treatment, food & beverage, trucking & automotive, pond & aquarium, pool & spa, educational and medical diagnostic industries. ITS has developed over 100 tests and proprietary chemistries (many of which have been ETV/EPA performance-verified), including the first and only EPA approved test strip.



For more information on any of the products offered by ITS, please contact a knowledgeable ITS Product Manager by calling (803) 329-9712 or toll-free at 1-800-861-9712.  Additional information and product details may also be accessed on the web at www.sensafe.com, or by sending an inquiry via email to its@sensafe.com.



Mike McBride

Marketing / I.T. /Social Media Manager

Industrial Test Systems, Inc. (ITS)

1875 Langston Street Rock Hill, SC 29730

PH 803.329.9712 ext 217   FAX 803.329.9743

Innovators of Water Quality Testing!

www.sensafe.com | www.sensafe.com/blog

More from Software