Pepperl+Fuchs' Handheld RFID Reader Named 2007 Design News "Golden Mousetrap" Award Finalist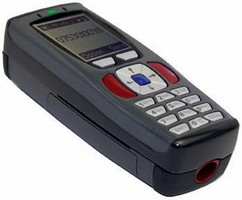 Award program recognizes best products of the year in four different categories

TWINSBURG, OH - Pepperl+Fuchs' IDENT Control RFID Handheld Reader has been named a finalist in the 2007 Design News magazine "Golden Mousetrap" awards. The awards recognize the best products of the year in four separate categories - electronics, motion control/automation, hardware and software, as well as materials/fastening, joining and assembly. The design engineering readers of Design News magazine judge the entries.

Pepperl+Fuchs' IDENT Control RFID Handheld Reader is battery operated and can be used to read or write data in the field without the use of a power cable. These fully programmable (JAVA Script) RFID handhelds are perfect for industrial, medical and logistical applications; these can be stand-alone applications using only the graphical display, or active applications where data is written and read from a remote database via the build in wireless interface.

What makes the RFID handheld particularly unique is that it has a single connector that has the built-in ability to function as a USB virtual COM port, USB HID, PS/2, and RS-232 port. The IEEE 802.15.1 wireless interface is standard on every unit. RS-232 data rate, data bits, and stop bits are completely configurable from the display.

The compact size combined with the ability to perform any type of data manipulation make this line of RFID handhelds the ideal device for RFID driven manufacturing and logistics applications. The display allows local feedback and data entry and the intelligent wireless and cabled interfaces provide safe data handling - as soon as the handheld leaves the wireless communication range data is stored until communication can commence. Operators do not have to be trained to deal with range issues, and the plant/warehouse does not need to be setup with 100% network coverage.

An integrated 2.4 GHz Class 1 radio provides wireless communication up to 300 ft. to any IEEE 802.15.1 access point. Due to the adaptive frequency hopping implemented in this standard communication interface, coexistence with many other wireless network types is possible. Data integrity over the wireless network is guaranteed by virtue of the integrated XML router functionality.

Pepperl+Fuchs is a world leader in the design, manufacture and application of high quality factory and process automation products and services. Pepperl+Fuchs pioneered the development of proximity sensors 45 years ago, and has set the standard for innovation and quality ever since.

For more information contact: Pepperl+Fuchs, 1600 Enterprise Parkway, Twinsburg, OH 44087; (330) 486-0001; fax: (330) 405-4710; fa-info@us.pepperl-fuchs.com; am.pepperl-fuchs.com .