Pennsylvania Granulators to Size Coal for Worlds Largest CFB, And First Super Critical CFB Power Plant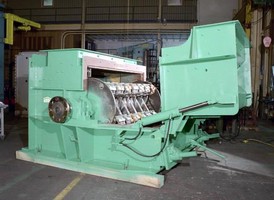 Broomall, PA (October 27, 2006): Pennsylvania Crusher's TKK granulators have been purchased by Foster Wheeler Ltd. Foster Wheeler Energia Oy, and its Polish subsidiary, Foster Wheeler Energia Polska Sp. z o.o.. This group is handling the design and erection of a 460 MWe circulating fluidized-bed (CFB) boiler island for Poludniowy Koncern Energetyczny (PKE) at Lagisza in southern Poland. This power plant will be the largest CFB in the world and the first ever super critical CFB. Properly sized coal for its boilers will be provided by two Pennsylvania granulators.

The new Lagisza unit will be built alongside PKE's existing 840 MWe power station and is part of an ongoing program by PKE, Poland's largest electricity utility, to replace outdated capacity with modern, high-efficiency, environmentally friendly technologies.

The Pennsylvania® Model TKK Granulator is the most widely used crusher of its type in the U.S. power generation industry and has grown in acceptance worldwide. It produces a granular product with a minimum of fines, it readily handles coals of all types, and is fully effective in crushing wet, fine and dirty coals.

Foster Wheeler Ltd. is a global company which offers a broad range of engineering, procurement, construction, manufacturing, project development and management, research and plant operation services.

Pennsylvania® crushers are used by numerous basic industries such as power generation, mining, cement plants, food and chemical processing, the glass industry and many others. The firm produces more types and sizes of crushers and breakers than any other company and over fifty-percent of U.S. steam coal is crushed using Pennsylvania equipment.

At Pennsylvania Crusher, contact
Lee Doyer,
Vice president of marketing,
E-mail: ldoyer@penncrusher.com,
Phone: 610-544-7200,

Write to Pennsylvania Crusher,
600 Abbott Drive,
Box 100 PR,
Broomall, PA 19008, USA.
www.penncrusher.com.

Related