Penn Stainless Products Now Stocking 22" and 24" Diameter Bar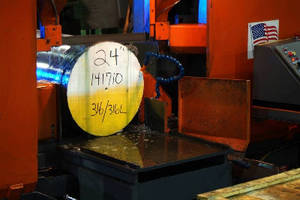 Quakertown, PA - - Penn Stainless Products has expanded its inventory to include new, large-diameter sizes of round bar through 22" diameter (in 304/L) and through 24" diameter (in 316/L). The materials are DFARS-compliant (Defense Federal Acquisition Regulation Supplement) and conform to ASTM A479 and ASTM A182. This addition positions Penn Stainless as the only stainless service center in the U.S. that is stocking 304/L and 316/L bar in 22" and 24" diameter sizes.

Complying with industry-standard forging specs, Penn Stainless 22" and 24" round bar offers substantial cost and machining advantages over fabricating pieces of this size from processed plate product. All round bar products can be cut to the customer's specified length.

For more information, contact Penn Stainless Products, Inc., 190 Kelly Road, Quakertown, PA 18951 USA; Phone: 1-800-222-6144 / 215-536-3053; Fax: 215-536-3255 E-mail: sales@pennstainless.com; Web: www.pennstainless.com.

Penn Stainless is a premier supplier and processor of stainless steel flat rolled, bar, structural and tubular products. PSP offers a wide range of sheet and plate, heavy or light gauge walls, small or large diameter, square or rectangular tubing to beams, channels and specialty shapes - all of which can be produced from stainless, nickel, 6-moly, duplex or alloy. Besides leveling and Gauer processing, Penn Stainless offers extensive cutting services, including: shear, plasma, HQ plasma, dynamic waterjet, saw and Amada production cutting. Worldwide supply and delivery; custom orders welcome.

Reader Service Inquiries: Please forward to Jason Martineau at Penn Stainless, sales@pennstainless.com. Thank you.


More from Materials