Penetron Technology Provides Value for Western Cape Sewage Plant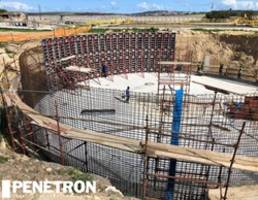 EAST SETAUKET, N.Y. (PRWEB) OCTOBER 24, 2018 - The expansion and upgrade of the Vredenburg wastewater treatment works in the Western Cape province of South Africa, completed in October 2018, needed an economical and reliable waterproofing solution. The technical team at Penetron South Africa offered an answer that guarantees long-term durability for the new concrete structures.
Located only 130 km north of Cape Town and 12 km inland from the Atlantic Ocean, Vredenburg is a business and transportation hub for South Africa's West Coast and the administrative center of the Saldanha Bay Local Municipality. The town features fish factories, the nearby Langebaanweg Air Force Base, and local services, such as banks, hospitals, shopping malls. A popular local attraction - the West Coast Fossil Park – has unique five-million-year-old fossils of mysterious prehistoric animals, such as giant pigs, short-necked giraffes and a massive bear.
PENETRON ADMIX for All New Concrete 
Serving the 40,000 modern-day inhabitants of Vredenburg, the city's wastewater treatment works recently underwent a capacity expansion and technical upgrade. Managed by the Western Cape Water Services Authorities (WSA), the project encompassed a new separator tank and clarifier, as well as repairs to the aeration basins, which had previously caused the works to experience overloading. *
The project engineers at Element Consulting worked with Penetron South Africa to come up with a waterproofing solution that would guarantee long-term durability. PENETRON ADMIX was specified for all the new concrete construction; ready-mix supplier Afrimat supplied the PENETRON ADMIX-treated concrete, which was mixed in during batching. The project contractor, Khubeka Construction carried out the work.
Ensuring an Intact Structure for Life 
The waterproofing qualities of PENETRON ensure the reinforcement steel in the structure is protected, which guarantees an intact concrete structure for the life of the treatment plant.
"Adding PENETRON ADMIX to the concrete offered a permanent and virtually maintenance-free solution for the Vredenburg works," explains Clive Leader, Director of Penetron South Africa. "That's the kind of value our clients count on."
The Penetron Group is a leading manufacturer of specialty construction products for concrete waterproofing, concrete repairs and floor preparation systems. The Group operates through a global network, offering support to the design and construction community through its regional offices, representatives and distribution channels.
For more information on Penetron waterproofing solutions, please visit penetron.com or Facebook.com/ThePenetronGroup, email    CRDept@penetron.com or contact the Corporate Relations Department at 631-941-9700.
More from Test & Measurement