PenBlade® Safety Scalpels form suture-trimming groove.
Press Release Summary: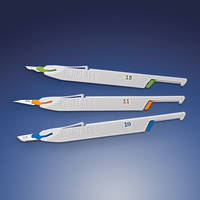 PenBlade® Safety Scalpels are offered in #10, #11P and #15 sizes. Constructed of medical-grade ABS and stainless steel, unit comes with enhanced sharpness and durability. Product comes with pen-style activation and release button that is positioned at the front of scalpel. The suture-trimming groove of the product allows user to finish the procedure in a safe position.
---
Original Press Release:
Qosina Adds Revolutionary PenBlade® Safety Scalpels to Its Line
Qosina is excited to announce it has added the award-winning, single-use PenBlade® safety scalpels to its product line.
Qosina offers the PenBlade® in surgical blade sizes #10, #11P and #15. The rigid body is constructed of medical-grade ABS, and the blade is high-quality British stainless steel for improved sharpness and durability. The ergonomically designed PenBlade® is tapered for blade visibility. The pen-style activation is intuitive, using existing muscle memory (clicking an ink pen). The release button is positioned near the front of the scalpel, where it can be pressed without looking or repositioning the hand. When the blade is retracted, the end of the PenBlade® forms a suture-trimming groove, which encourages the user to finish a procedure in a safe position. This unique patented feature is not available on any other surgical scalpel.
Qosina will be showcasing the PenBlade®, in addition to thousands of stock components, at MD&M West, February 6-8, at the Anaheim Convention Center in Anaheim, CA.
Founded in 1980, Qosina is a leading global supplier of OEM single-use components to the medical and pharmaceutical industries. Qosina's philosophy is to address its customers' need to reduce time-to-market by providing thousands of stock components. The company's vast catalog features more than 5,000 products shown in full-scale illustrations on a one-centimeter grid. Qosina offers free samples of most items, low minimum order requirements, just-in-time delivery, modification of existing molds, and new product design and development. Qosina is ISO 9001, ISO 13485 and ISO 14001 registered, and operates in a 95,000 square-foot facility with an ISO Class 8 Clean Room. To learn about Qosina's full component offering, which includes the newest products,
visit www.qosina.com or call +1 (631) 242-3000.
More from Materials