Pen-Sized Color Scanner scans full page in 4 seconds.
Press Release Summary: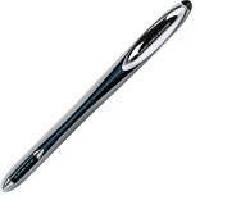 Featuring pen-sized design, ScanStik includes MicroSD memory slot that holds thousands of image scans from 150-600 dpi resolution in color or black and white. After scanning, unit is plugged into USB port of computer to transfer, recognize, organize, and edit scans with included ABBYY FineReader SE, PaperPort OCR Software, and PlanOn's CLC image technology. Measuring 8.9 x 0.5 x 0.5 in., ScanStik is equipped with rechargeable lithium polymer battery and charges via computer's USB slot.
---
Original Press Release:

Planon Announces ScanStik- World's Smallest Full Page Color Scanner



"Office in a Pocket" for Business, Home and School

Pen-sized Scanner Scans a Full Page in 4 Seconds-

Stores Thousands of Images up to 600 dpi and

Features PlanON CLC Image Technology for Superior Image Quality

MISSISSAUGA, ON, - PlanOn System Solutions Inc. www.planon.com, the world leader in scanning and printing solutions for the mobile professional, announced today ScanStik, the world's smallest full page color scanner. Pen-sized, fast and easy to use, ScanStik is the most compact, sleek designed full page color scanner available on the market. It's perfect for scanning on the go, at work, home, or school - an "Office in a Pocket." Unlike other pen-sized scanners that only scan a line at a time, the light-weight ScanStik scans the whole page at once just like a flat-bed scanner, but without the bulk. For even more convenience, ScanStik also features a MicroSD memory slot that holds thousands of image scans from 150 to 600 dpi resolution in color or black and white.

'Click and Scan' Function Scans a Full Page in Just 4 Seconds

Fast and easy to use, ScanStik features a 'click and scan' fast function, that scans a full page in just 4 seconds. After scanning, just plug ScanStik into the USB port of your computer to transfer, recognize, organize, and edit scans with the included ABBYY FineReader SE and PaperPort OCR Software and PlanOn's CLC (Crystal Line Contact) image technology with superior image quality for better presentations and OCR accuracy. ScanStik also includes a rechargeable Lithium Polymer battery, which charges ScanStik via the computer's USB slot, so you never have to worry about needing new batteries or buying a charger - and it's also better for the environment.

Makes it Easy to Work from Home or on the Road

"With increasing flex-time becoming more prevalent with more employees working from home or on the road, people need to bring their office with them wherever they go. ScanStik allows you to bring your office with you, letting you scan contracts, receipts, invoices, business cards - everything you would do at work - while on the road," said Doug Verkaik, CEO of Planon.

ScanStik Uses:

For the Mobile Professional: Smaller then full page scanners, ScanStik fits in your bag or purse and saves time by having your office tools with you at all times. Agents, (Real Estate, Investment, and Insurance) or salespeople gather important documents on the road instead of taking them back to the office to copy and return. Just scan the info: driver's license, property tax bill, survey, life insurance, application, etc. on the spot. Also ScanStik eliminates the hassle and cost of using hotel business services by scanning and emailing right in your hotel room.

At the Office: Use ScanStik right at your desk. Avoid the inconvenience of looking for a scanner in the office and then retrieving the file on the network. Makes it fast and easy to receive documents from co-workers or customers, then lets you print, sign, scan and email back.

At Home: Use ScanStik for capturing expense receipts for taxes, pictures, and important personal documents (insurance, wills, report cards, warranty info, etc.). Organize scans with the included software.

For the Student: Scan the pages you need from a book or article in the library or classroom without having to borrow it for days. Collaborate with other students on projects and scan and share info quickly - scan lecture notes from missed days.

ScanStik Features:

o Resolution:150, 300, & 600 DPI

o Scan: 24-bit Color JPG, B&W

o Dimensions: 8.9" x 0.5" x 0.5" (227mm x 13mm x13mm)

o Battery: Re-chargeable Lithium Polymer (charges through USB slot)

o Memory: MicroSD card slot (purchase separately)

o Connectivity: USB

o Image Technology: PlanOn CLC (Crystal Line Contact)

o Platforms: Windows XP, Vista, 7 32/64 and MacOSX

o Multi-Page Scan Mode

o LED Function Display

o Selectable Resolutions and Formats

o Free Firmware Upgrades

o Leather Case

o USB Cable

o CD-ROM Installation Disk

o ABBYY FineReader SE OCR Software

o PaperPort OCR Software

o Quick Start Guide

Priced at $159.99, ScanStik is available immediately from PlanOn and leading retailers. For more information, see planon.com/scanstik.php or www.planon.com.

About PlanOn System Solutions Inc.

PlanOn System Solutions Inc. has been providing scanning and portable computing solutions that enhance the mobile office for over a decade. PlanOn's talented R&D team has successfully brought the results of market research on unmet needs in the mobile computing market to innovative, visionary solutions. PlanOn is the developer of DocuPen, a full-page, portable, pen-sized, scanner which provides the ultimate in flexibility and versatility through its ergonomic and lightweight design, and the PrintStik, the world's smallest full page printer with a self-contained roll of paper, rechargeable battery and embedded Bluetooth technology. The company is headquartered in Mississauga, Ontario, Canada, and located in Cheektowaga, NY. PlanOn can be reached at 888-507-3926 or through the website at www.planon.com.

SlimScan, a credit card size scanner, is also ideal for creating and managing digital copies of receipts and purchase records for returns, warrantees and insurance purposes. It makes it easy to scan receipts so you can return purchases without the hassle of searching for lost receipts. And unlike paper originals that can be easily lost, SlimScan's copies can be digitally stored for re-printing whenever you need them.

More from Computer Hardware & Peripherals