PEM® Type SMPS(TM) Self-Clinching Nuts Ideally Suit Restrictive Design Envelopes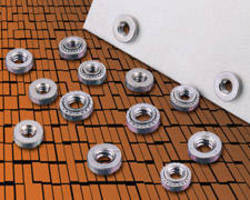 PEM® Type SMPS™ self-clinching nuts introduce ideal fasteners for ultra-thin metal sheet applications where design envelopes may be restrictive and space for attachment hardware may be limited.  Installing permanently in steel or aluminum metal sheets as thin as .025" / 0.64mm, their minimal "edge of sheet" to "center of fastener" distance (.145" / 3.7mm) enables close-to-edge mounting on a panel and a small diameter (.220" / 5.6mm) and low height (0.065" / 1.4mm) combine for an overall low-profile fastener solution.



These self-clinching nuts provide strong, durable, and reusable metal threads to accommodate a mating screw, which completes the assembly and eliminates any need for additional attachment hardware.  A serrated clinching ring prevents the fastener from rotating after installation.  In service these nuts ultimately will not loosen, fall out, or otherwise adversely affect end-product integrity or performance.



PEM Type SMPS nuts are made from 300 Series stainless steel imparting high corrosion resistance and can be supplied in unified or metric thread sizes #2-56 through #6-32 and M2.5 through M3.5.



As a value-added option for specification when hardware must be installed prior to painting or similar operations, a PEM® Blu-Coat™ thread mask can be specially applied in advance.  Threads of the mating hardware during assembly will remove the paint, electro-deposited automotive undercoatings, or weld splatter upon application of torque.



Detailed specifications, installation animation, CAD models, and performance data (Bulletin CL) for these RoHS-compliant fasteners can be accessed at www.pemnet.com.



More from Fasteners & Hardware