Pelican's New Adventure, Ambassador, Protector, Protector+, Shield and Voyager Case Covers Drop Tested to Military Specifications
Press Release Summary: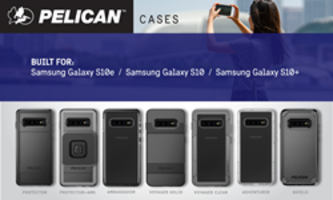 23% impact-absorbent Adventure Case is available in clear/clear, clear/black color and Ambassador Case made up of HPX material available in clear & black/silver buttons
Rigid, impact-resistant Protector Case is available in black color and Protector+ AMS Case is available in black & light grey with an integrated Auto mount system
5 protective layered Shield Case is available in black color and Voyager Case is available in clear, black & grey color with four layers of rigid polycarbonate
---
Original Press Release:
Pelican Launches Six Durable Phone Cases for Latest Samsung Galaxy S10 Line of Phones
Each Case Specifically Tailored for Different Lifestyle Needs; All Backed with Pelican's Legendary Lifetime Guarantee
Torrance, CALIF. (PRWeb) February 20, 2019
Ensuring that its renowned line of rugged and stylish phone cases meets the needs of every customer, Pelican Products, Inc., the global leader in rugged, mission-critical protective cases since 1976 is proud to announce that it now offers six innovative phone cases for the recently launched Samsung Galaxy S10e, S10 and S10+. Like all Pelican products, the new cases for Samsung phones are forged from 40 plus years' experience building industry-leading protective cases for sensitive camera equipment and other professional equipment.
Pelican's six new cases for the latest Samsung phones are each designed to meet the specific needs of different lifestyle users. Every case is backed by Pelican Products' legendary lifetime guarantee…you break it, we replace it…forever, and are drop tested to Military Specifications. Here's a quick look at the six new Pelican cases for Samsung phones: 
Pelican™ Adventurer Case (Available in Clear/Clear, Clear/Black and opaque Metallic Rose Gold/Grey, MSRP: $40.00): Whether you're trotting around the globe or the neighborhood, this sleek and resilient case will keep your phone safe. Thanks to its Force Impact Technology, the Adventurer case is 23% more impact-absorbent over similar protector models in the market and will move any shock away from your phone.
Pelican™ Ambassador Case (Available in clear and black/silver buttons, MSRP: $40.00): Great for urban sophisticated living, the Ambassador case boasts military-grade protection that looks and feels like luxury. A crystal-clear back and dual-beveled edge shows off the design of your phone all while keeping it safe from any potential, spills, cracks, or falls that would otherwise result in an untimely demise. The Ambassador case also features Dual-Layer Impact Protection, the impact-dispersing HPX™ technology that absorbs the shock from a fall so your phone doesn't. The HPX material is 10X more shock absorbent than standard TPU/TPE rubber.
Pelican™ Protector Case (Available in black, MSRP: $40.00) The Protector case is created with technology once reserved for first responders and extreme-enthusiasts around the globe. A rigid, impact-resistant outer shell combined with a shock-absorbing rubber lining provides military-spec protection. It will easily take on stairs, sidewalks, and everywhere else your phone may accidentally tumble. The Pelican Protector case will keep your phone safe while stylishly preserving your phone's functionality.
Pelican™ Protector+ AMS Case (Available in black and light grey, MSRP: $50.00): Designed for road warriors and anyone who lives in their car, the Protector + AMS case comes with an integrated Auto Mount System, featuring a steel plate and AMS magnetic car vent mount, allowing for hands free operation with no interference to wireless charging. The AMS kit offers both portrait and landscape modes and supports most vehicle vent sizes, and the mount can be used as a media viewing kickstand.
Pelican™ Shield Case (Available in black, MSRP: $60.00): Maximum protection for rougher lifestyles. The Pelican™ Shield case does exactly what you would expect: shields your phone in 5 protective layers against whatever life throws your way. The shock absorbing interior shell and reinforced corners work together to create top of the line drop protection that exceeds military testing standards. It features a holster and an integrated kickstand to help you read or view your favorite movies. Easy access port covers provide an integrated layer of extra protection against the elements while still allowing all your phone's features to remain fully operational.
Pelican™ Voyager Case (Available in clear, black and grey, MSRP: $50): One of the toughest phone cases on the market. The Pelican Voyager case protects against impact, shock, dust and sharp-edged attacks to your screen. Four layers of rigid polycarbonate and energy-absorbing TPR and PU rubber disperse impact energy, and we've tested it to military specifications to survive multiple drops. The Pelican Voyager case also features a holster and an integrated kickstand to help you read or view your favorite movies. The thinnest ultra rugged case on the market!
For full details on all models, pricing and to purchase, visit http://www.Pelican.com.
S10e: Protector; Voyager; Adventurer; Ambassador; Protector + AMS
S10: Protector, Voyager, Adventurer, Ambassador, Protector + AMS
S10+: Protector, Voyager, Adventurer, Ambassador, Protector + AMS; Shield
Pelican Products, Inc. is a portfolio company of Behrman Capital, a private equity investment firm based in New York and San Francisco.
About Pelican Products
Pelican Products, Inc. is the global leader in the design and manufacture of high performance protective cases, temperature controlled packaging solutions, advanced portable lighting systems and rugged gear for professionals and outdoor enthusiasts. Their products are used by professionals in the most demanding markets including fire safety, law enforcement, defense / military, aerospace, entertainment, industrial and numerous outdoor markets. Pelican™ products are designed and built to last a lifetime. The company operates in 21 countries, with 22 international sales offices and six manufacturing facilities around the globe. In Europe, the company does business under the name Peli Products, S.L.U. For more information, visit http://www.pelican.com or http://www.behrmancap.com.
All trademarks are registered and/or unregistered trademarks of Pelican Products, Inc., its affiliates or subsidiaries
Contact:
Sara Trujillo
917-295-5491
Related