Peifer Fabricates Smoke Screen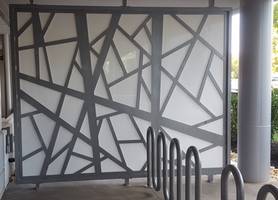 Peifer Welding & Peifer Waterjet fabricated a decorative outdoor panel to hide the smoking area at a high end office building. West Chester contracting firm, Shields Construction contacted Peifer to fabricate an outdoor panel to match an existing indoor panel at CrossPoint located in the Wayne suburb of Philadelphia, PA. Peifer waterjet cut the panels from .75″ aluminum and welded a tube frame around the perimeter. The panel was then powdercoated and backed with a .25″ plexiglass panel. The end result was not only functional, but attractive.
About Us:
Peifer is dedicated to an outstanding quality of work consisting mostly of commercial construction including railings, stair towers, small structural steel, and miscellaneous fabrication in steel, aluminum, and stainless steel. PWI also provides water jet cutting services featuring a Hydra Jet cutting system. We utilize an abrasive waterjet cutting system to provide precise and efficient cutting of metal and non-metallic materials. We can cut large components, small precision parts and prototypes with exceptional edge quality within a +/- 0.005 in. accuracy. Materials cut include Acrylic, metals, alloys, ceramics, foams, glass, plastics, rubber, wood, and many more materials.