Pegasus+ Pressure Controllers Cut Utility's Weekly Water Costs by Over 30 Percent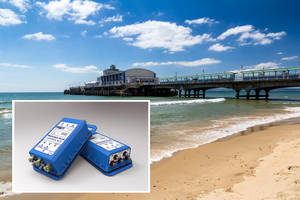 Milford, OH (November 2, 2016) –Using the Pegasus+ pressure control system from conservation specialist HWM (known as FCS in the United States), Bournemouth Water municipal water supplier (Bournemouth, U.K.) achieved significant cost savings on repairs, leakage and production costs.
Bournemouth Water supplies drinking water to nearly 500,000 people in southwest England. Historically, the company only used pressure management in areas where high pressure existed, and not as a form of reducing leakage across the distribution network. In an attempt to increase efficiency, Bournemouth Water engineers conducted a thorough analysis of the network, concluding that extensive pressure management could take place at the DMA level. This could produce savings from leakage reduction and production costs while increasing the lifetime of the aging network.
After comparing a number of suppliers, Bournemouth Water selected HWM and its Pegasus+ pressure control system. The system allows Bournemouth engineers to set target pressures by time, flow, or a combination of different settings per day of the week, providing the enhanced control necessary to achieve the projected cost savings.
After installing the equipment in 2015, Bournemouth Water reduced pipe bursts by 54 percent, and weekly production costs by over $2,400 from the previous year. The company is on target to achieve its projected savings and plans to look for other areas where pressure management can increase efficiency.
For additional information, visit the FCS website at www.fluidconservation.com or email sales@fluidconservation.com.
Company Profile: FCS, a division of Halma Water Management, is the North American industry leader in water leak detection technology. FCS was the first organization to patent leak correlation technology, and today its products are installed with over 1000 utilities throughout the United States.
A Halma Company
Company Contact:
Vincent Favre
Fluid Conservation Systems Inc.
502 TechneCenter Drive, Suite B
Milford, OH 45150
USA
Tel: +1 800.531.5465
Fax: +1 513.831.9336
E-mail: sales@fluidconservation.com
Website: www.fluidconservation.com
Press Contact:
Rob Dietrich
Halma Holdings PR Services
11500 Northlake Drive,
Suite 306 Cincinnati,
OH 45249 USA
Tel: +1 513.898.8007
Fax: +1 513.898.8008
E-mail: rob.dietrich@halma.com
Website: www.halmapr.com
Related