Peen Marking Machines meet varying production requirements.
Press Release Summary: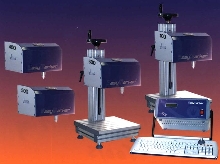 EasyMarker(TM) machines include EM100, EM300, EM400 and EM500. EM100 bench-top marker is designed for hand loading and has 100x100mm marking window. EM300 includes internally installed I/O board and 8 I/O ports on rear of controller. Marking window is 100x100mm. EM400 is designed for harsh environments. Marking head has cover to prevent debris from gathering around x-y components. It produces up to 7 character per second and has marking window of 70x60mm. EM500 is same as EM400 except it includes integrated I/O board with 16 I/O ports.
---
Original Press Release:

Columbia Marking Tools Introduces Three More Programmable Easymarker(R) Peen Marking Machines


Newly expanded EasyMarker line targets the specific needs of a variety of industries and the different materials that require marking.

Columbia Marking Tools, Inc. in Mt. Clemens, MI in conjunction with MarKing Integrity, Inc., is introducing three more EasyMarker(R) programmable high-speed peen marking machines to help meet varying production requirements. Columbia Marking Tools has a joint venture with MarKing Integrity, Inc., the Richter Systems and Machines sales and marketing organization in North America.

Tom Phipps, Columbia Marking Tools' CEO says, "We have found that the demand for this type of high-speed marking machine really requires that we have a more versatile line with a range of machines that can be stand-alone units or integrated in a manufacturing system to meet varying production requirements."

The basic EasyMarker peen marking machine is pneumatically-operated. It has a very fast 400 Hz marking speed, up to five characters per second, considerably higher than other competitive models, and has the flexibility to inscribe many different materials including ferrous and non-ferrous metals, plastics and wood. The EasyMarker machine can perform linear, angular and circular imprinting with the standard software package. It can also mark both concave and convex surfaces without the need for additional tooling. The CNC-controlled vibro peen marking action ensures the most precise inscriptions.

The EasyMarker is a complete package including a keyboard and controller, with user-friendly prompts for quick navigation thru programming. The standard unit interfaces with existing Windows(R) 95, 98 or NT systems, using the included SIGNUMERIC software.
This allows the user to create intricate logos, special graphics, and 2-D codes with enhanced functionality.

Data entered by the keyboard can be viewed and edited on the LCD display before any marking is performed. Text can be fixed or variable, numbering can be sequential, date coding can be set up to be automatic and character size can vary in 0.1mm steps. For
increased flexibility, the penetration depth is easily adjustable through a pressure regulator.

The EasyMarker(TM) peen marking machine line, Fig. 1, now includes a Model EM100, EM300, EM400 and EM500. The Model EM100 is specifically designed as a bench top marker where parts are typically hand loaded and unloaded. It has a 100 x 100 mm (4 x4-
inch) marking window. This unit is designed to be used with a tool post and stand. It is not designed for harsh environments.

The Model EM300 is identical to the Model 100 except it has the added feature of an internally installed I/O board and has eight I/O ports located on the rear of the controller. This allows connection with a PLC so programs can be called-up so print commands can be issued and status can be reported. The marking window is 100 x 100 mm (4 x4-inch).

The Model EM400 is a unit specifically designed for operation in harsh environments. The marking head is designed with a cover that prevents debris from gathering around the x-y components. The design also allows the head to be mounted in any position for in-line integration. The marking head is built with a high-torque stepper motor with zero slip drive belts. The unit uses a higher power system, which produces a faster head positioning speed of 300 mm per second, which can produce up to seven characters per second. The system includes serial interface software with eight I/O ports for ease of integration. The marking window is 70mm x 60mm (2.73 x 2.34 inches).

The Model EM 500 is identical to the EM400 with the exception of an integrated I/O board with sixteen I/O ports. This model is designed to be applied as an in-line peen marking unit or as part of a work cell. The marking window is 70mm x 60mm (2.73 x 2.34 inches).

Other optional features include: a rotator for marking the circumference of cylindrical parts; Windows(R) software for use with a PC.

The standard EasyMarker units with CNC control are available from stock. Columbia Marking Tools provides a 2-year warranty with each standard unit package.

Columbia Marking Tools is a leading designer and manufacturer of metal and plastic marking equipment including stamps, roll marking dies, roll marking and impact marking machines, numbering heads and special marking machines.


Related