Peel-Open Barrier serves sample, single-dose applications.
Press Release Summary: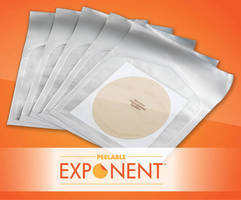 As peelable Barex® replacement structure targeting pharmaceutical and combination drug sample and single dose applications, Peelable Exponent™ can hold challenging chemicals while still being user friendly. Design, featuring sealant chemistry optimized for balance of chemical inertness, hermetic seals, and peelability, is compatible with hard-to-hold and sensitive chemicals.
---
Original Press Release:

Easy-to-Open BAREX® Replacement Takes on the Single Dose Application



About Rollprint Packaging Products

With manufacturing facilities near Chicago, IL, Rollprint Packaging Products, Inc. is a worldwide supplier of packaging materials for the healthcare and consumer industries. The company offers a complete range of flexible, heat-sealable materials incorporating film, ClearFoil®, foil, Tyvek® and paper. Structures can be designed to accommodate any sterilization method. Available in rollstock, pouches and die-cut lids, Rollprint's materials can meet the needs of most peelable, chemical resistant and barrier applications.



The company is a founder of Alliantz Flexible Packaging Pte. Ltd., a joint venture with Acme Packaging Co. (Pte) Ltd., Singapore. Headquartered in Singapore, Alliantz serves the flexible packaging supply needs of Southeast Asia and China. Rollprint is respected throughout the packaging industry for its heatsealable, peelable rollstock and pouch technology, as well as its ClearFoil® ultra-high barrier transparent laminates, Allegro® peelable sealants and ClearForm® forming webs. Rollprint has supplied flexible packaging materials into healthcare, industrial, and consumer end-use applications for more than 50 years.



Additional information can be obtained at www.rollprint.com



Peelable Exponent™ is designed for hard to hold and sensitive chemicals. It ideal for sample and single dose applications.



Addison, Ill. — Rollprint Packaging Products, Inc. has used its unique knowledge of sealant chemistry to develop a peelable Barex® replacement structure targeting pharmaceutical and combination drug single dose applications. Peelable Exponent™, the latest addition to the Barex® replacement product family, combines science with the consumer's desire for easy opening.



"Knowing that our customers would need to fully validate any Barex® alternatives we asked, 'What else would you change now if you had the option for the perfect product?'" Dwane Hahn, Vice President of Sales and Marketing, Rollprint Packaging Products. "The most common response received was 'the desire for an easy opening feature' which is what led us to our latest development."



Engineering the Human Factor Rollprint worked with our chemical and packaging engineers and customers to design a package that can hold some of the most challenging chemicals while still being user friendly. Our technical team worked with our state-of-the-art R&D laboratory to create and analyze sealant chemistry to find the optimal balance of chemical inertness, hermetic seals, and peelability. With the growth of the senior demographic, the importance of easy-toopen packaging has come to the forefront of customer requirements.



Our Exponent™ family now has four products that can hold a variety of chemicals depending on the chemistry requirements and the customers' needs including Exponent™ 2, 3, 4, and now Peelable Exponent™. Rollprint has a full range of options for chemically sensitive products, including foil, high barrier, and our Clearfoil® structures. Our custom materials and sealants are ideal alternatives for challenging chemical composites including transdermal patches and single dose applications.



Barex® is a registered trademark of Ineos

More from Material Processing