Pedestrian Traffic System protects polyurethane foam roofs.
Press Release Summary: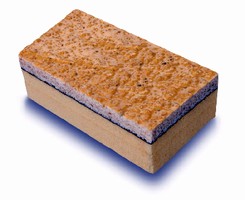 Designed for use around all equipment requiring servicing, as well as areas of heavy foot traffic, Z-Guard consists of one-component, moisture curing, silicone/quartz liquid composite slurry. Ready-to-use material can be applied to dry, frost-free surface, and cures at normal temperature in 12-18 hr by reacting with moisture in air. Comprised of silicone rubber, organic hardeners, and quartz aggregates, reinforced, silicone walkway has Shore A hardness of 80 psi and is trowel applied.
---
Original Press Release:

West Development Group's Z-Guard Pedestrian Traffic System Protects Polyurethane Foam Roofs



LaGrange, Ohio, (July 17, 2008) - West Development Group (WDG), a leader in sustainable roofing products and practices, introduces the Z-Guard Pedestrian Traffic System for use on sprayed-in-place polyurethane foam roofs. Z-Guard is a one-component, moisture curing, silicone/quartz liquid composite slurry designed for use around all equipment requiring servicing, as well as areas of heavy foot traffic.

The Z-Guard reinforced, silicone walkway is a dispersion of silicone rubber, organic hardeners, and quartz aggregates. It is a one-part, ready-to-use material that can easily be applied to a dry, frost-free surface, and cures at normal temperature in 12 to 18 hours by reacting with moisture in the air. It is tack-free in 1 to 2 hours.

Z-Guard has a Shore "A" hardness of 80 psi and is trowel applied. Minimum coverage rate is 66 sq. ft. per 5-gallon bucket. WDG Z-Guard is available in 10 oz. cartridges, and 2 gallon or 5 gallon buckets. These products have a shelf life of 12 months from the date of manufacture. For typical properties and Z-Guard specifications, visit the WDG web site at: www.wdgsilicones.com.

The Z-Guard Pedestrian Traffic System is part of WDG's System 14(TM) Total Silicone Roof System, which includes a complete range of products from silicone sheet goods and skylight glazing to silicone sealants and coatings and Spray Polyurethane Foam (SPF) insulation.

For more information about the Z-Guard Pedestrian Traffic System, the System 14 Total Silicone Roof System, or other roofing products from West Development Group, please call WDG at 440-355-4682 or toll-free at 1-866-924-4585. Email info@wdgsilicones.com. Visit the WDG Web site at www.wdgsilicones.com.

West Development Group (WDG) specializes in silicone and polyurethane foam technologies used in the roofing industry. The company is committed to sustainability and protecting the environment through ecologically sound products and practices. WDG products are developed with knowledge gained from nearly 30 years of input from roofing contractors. The WDG roof system is the only total silicone roof that makes total ecological sense. A quality silicone roof system helps save money in installation and maintenance. This one helps save the planet. Visit the WDG Web site at www.wdgsilicones.com.

CONTACT:

Gary Hluszti

Sales/Project Management

West Development Group

320 Commerce Drive

LaGrange, OH 44050

Phone: 1-866-924-4585

gary.hluszti@wdgsilicones.com

More from Architectural & Civil Engineering Products